There's an peculiar phenomenon that takes place during "Film Night in the Park" screenings. I witnessed it one evening while riding my bike past Duboce Park in San Francisco during a screening of Mrs. Doubtfire. The entire park erupted in cheers and applause when a third-generation MUNI appeared in the screen –– I couldn't help but think that this was the most excited I had ever seen people be about the much-maligned buses. But then I realized that seeing these films in the company of friends and neighbors is almost like going to a sporting event, except in this scenario the home team is comprised familiar landmarks.
This weekend you'll have an opportunity to do some cheering of your own as the summer season of movies kicks off in San Anselmo with two films that highlight Bay Area locales. Star Trek Into Darkness airs on Friday, and anyone who's already seen the film can tell you that the crew of the Starship Enterprise spend at least half their screen time in futuristic San Francisco. Saturday's screening of Raiders of the Lost Ark comes with its own set of hometown starlets –– college scenes were filmed at Dominican University and the home exteriors were filmed in San Rafael. So arrive early, spread out a blanket, picnic prior to the show and get ready to cheer for home.
If You Go:
When: Saturday, July 18 at sunset
Where: San Anselmo Creek Park
Cost: Free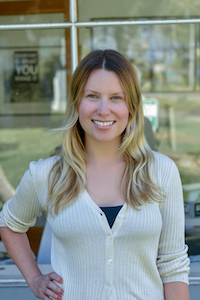 Kasia Pawlowska loves words. A native of Poland, Kasia moved to the States when she was seven. The San Francisco State University creative writing graduate went on to write for publications like the San Francisco Bay Guardian and KQED Arts among others prior to joining the Marin Magazine staff. Topics Kasia has covered include travel, trends, mushroom hunting, an award-winning series on social media addiction and loads of other random things. When she's not busy blogging or researching and writing articles, she's either at home writing postcards and reading or going to shows. Recently, Kasia has been trying to branch out and diversify, ie: use different emojis. Her quest for the perfect chip is never-ending.