Fashion spreads are enchanting, seamless worlds filled with flawless faces, opulent fabrics, dazzling baubles and oh-so-cool-attitudes. Fashion shoots? Not so much. And the journey from conception to creation is one of meticulous planning, long days and tape. Lots and lots of different tape. For the Fall 2016 shoot, stylist Leah Marie looked at the runways for inspiration, "After reviewing Fall runway reports, I noticed a strong theme of Western apparel running through some of my favorite lines." This led her to adopt a similar theme while hinting at boho and veering Western. "The western twist being cowboy boots, fringe, leather, denim, big buckle belts, turquoise and bead jewelry and Aztec prints," Marie gushes.
Long-time Marin Magazine collaborator Elizabeth Chang was brought on again to create a sultry look, read: smoky eyes, nude lips, flushed cheeks, a little dewy. For hair, Chang styled model Emily Arnold with loose curls that can easily transition into a low pigtail, or side pony, and back to down and flowy again. With her expertise this happened before you could say, "eat your heart out Karlie Kloss."
Capturing the magic were Milan + Shannon, a talented husband and wife duo with an uncanny ability to catch sultry, intimate moments on film. Their first time working with the magazine was nothing short of sensational. Galavanting in and around Point Reyes the production caused a stir, garnering lots of wandering eyes and a few fans, too.
The idea for this shoot differed from some of our previous ones, as well, with wearable fashion being at the forefront. "Wearable meaning comfortable, fashion forward, reasonably priced and flattering," says Marie. And the clothes are also accessible geographically speaking. "You will see that most of the apparel and accessories are from local Marin County boutiques –– it was really fun to bring it back to our roots here in Marin."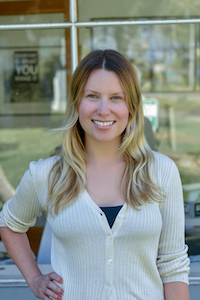 Kasia Pawlowska loves words. A native of Poland, Kasia moved to the States when she was seven. The San Francisco State University creative writing graduate went on to write for publications like the San Francisco Bay Guardian and KQED Arts among others prior to joining the Marin Magazine staff. Topics Kasia has covered include travel, trends, mushroom hunting, an award-winning series on social media addiction and loads of other random things. When she's not busy blogging or researching and writing articles, she's either at home writing postcards and reading or going to shows. Recently, Kasia has been trying to branch out and diversify, ie: use different emojis. Her quest for the perfect chip is never-ending.