For the past 13 years Marin has enjoyed Heidi Insalata Krahling's cuisine via her restaurant Insalata's and her catering at many fine parties countywide. So it's no surprise her cookbook Insalata's Mediterranean Table has been flying off the shelves since its debut last fall. This month, she shares highlights from her own path to becoming a chef—along with a signature recipe.
Did you go to restaurants as a child? Living in Pasadena and then Ventura, our family never ever went out to eat. Except for a few Bob's Big Boy fun summer runs with our grandmother, the first time we all went out to eat as a family was my high school graduation. The seventies were not exactly in an epic culinary period, and I think my parents felt the food was better, and cheaper, at home!
Where did you learn to cook? My mom did the cooking for our big brood until I got to high school and then my dad retired and spent the entire day cooking…every day. Besides my parents' help with big food events for the school and church, the cooking and food experiences I remember the most are the afternoons in the summer when we had to peel the skin off the hot peaches or tomatoes for canning. Or a weekend in the fall, cracking walnuts at a dinner table that was spread out with newspaper. I really did not start to seriously cook or even care about cooking until college. When I was the chef at my first restaurant in Bass Lake, my dad came up and whipped up some of his specialties. I will never forget one Sunday morning my dad got so backed up making his "eggs in a nest"— a very fancy whipped egg white dish—that we had to close temporarily so we could all jump in and get him out of the weeds.
What do you cook at home? Does cereal count? I am somewhat of an all-or-nothing home cook. Either I am cooking for a feast or it is takeout from Insalata's or Marinitas. I do make a mean stir-fry and epic tacos that my family enjoys.
Have you learned any life lessons as a restaurateur? I bought my first restaurant in 1978 right after I graduated from college. The Hells Angels came the first weekend I had the restaurant, which was Fourth of July. When I did the ordering for that weekend, I ordered 27 loaves of wheat bread and three loaves of white bread. I was out of white bread in the first hour. So what did I learn: that the customer is always right…especially if his tattoos are bigger than your face!
Did you have formal training? I went to Tante Marie's Cooking School in the eighties and then immediately worked at Square One as an opening line cook. Now that was training.
Describe your perfect night. It has many layers. First, no major blunders—ha! That perfect balance of super-busy, not too crazy, great food execution. Happy customers, especially those who tell you about their love of our restaurants. Going home and not having to ice my knees.
Do you have favorite customers? That is like asking who your favorite child is. I do love the story of the customer who came to the back kitchen door on Thanksgiving with his gravy boat asking to buy some giblet gravy because he burned his.
What essential ingredients should be in every kitchen? Good cooks with great taste buds…and salt, lemons, and good olive oil and…a husband who will happily do the dishes.
Next cookbook? I would love to write a cookbook about the luscious foods of Marinitas—in a few years!
Cataplana
Cataplana is a seafood sauté from Portugal composed of clams, chorizo sausage and tomatoes. It is also the Portuguese name for the copper vessel in which the clams are traditionally cooked.
4 tablespoons extra-virgin olive oil
6 ounces skinned Portuguese or Spanish chorizo, cut into 1/4-inch-thick diagonal slices
1/2 cup dry white wine
1 teaspoon minced garlic
1/4 teaspoon red chile flakes
3 pounds Manila clams, scrubbed
2 cups marinara sauce
crispy prosciutto gremolata (Italian condiment of parsley, lemon and garlic with prosciutto)*
rustic bread, grilled or toasted, for serving
rouille (Provençal sauce) for serving
In a medium sauté pan, heat the oil over medium-high heat. Add the chorizo; cook, turning once, until browned, about 2 minutes. Transfer to a plate; set aside. In the same pan, combine the wine, garlic and chile flakes; cook, over medium heat, 15 seconds. Add the clams and marinara sauce; bring to a boil over medium heat. Cover and cook until clams have opened, discarding any that do not open. Stir in the chorizo. Taste and adjust the seasoning. Serve immediately, topped with prosciutto gremolata and accompanied by toasted slices of rustic bread and the rouille.
Tips: I prefer to use Manila clams but you can also use littlenecks. Be sure to scrub and rinse the clams in cold water prior to using them. The clams should remain shut after rinsing and any open ones should be discarded. The opposite is true after cooking—the clams should be open after cooking and the closed ones should be discarded.
* For the complete recipe, including crispy prosciutto gremolata, marinara sauce, and rouille, go to our staff blogs.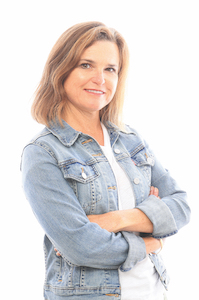 Mimi Towle has been the editor of Marin Magazine for over a decade. She lived with her family in Sycamore Park and Strawberry and thoroughly enjoyed raising two daughters in the mayhem of Marin's youth sports; soccer, swim, volleyball, ballet, hip hop, gymnastics and many many hours spent at Miwok Stables. Her community involvements include volunteering at her daughter's schools, coaching soccer and volleyball (glorified snack mom), being on the board of both Richardson Bay Audubon Center. Currently residing on a floating home in Sausalito, she enjoys all water activity, including learning how to steer a 6-person canoe for the Tamalpais Outrigger Canoe Club. Born and raised in Hawaii, her fondness for the islands has on occasion made its way into the pages of the magazine.