For our February Tastemakers of Marin feature, I reached out to a dozen or so chefs in Marin, including Joanne Wier who along with Gonzalo Riveria heads up the kitchen at Sausalito's Copita Tequileria y Comida, a partnership between Weir and restauranteur Larry Mindel (who also owns Poggio Restaurant in Sausalito). When she is not preparing meals herself, here are her favorite places to eat in the county.
Favorite appetizer: Seabass, blood orange and pomegranate ceviche at Copita – what Joanne loves about this dish is the blending and balancing of the sweet oranges and lime juice vs. the sweet pomegranates. Along with a bit of hot from the serrano chile for a little punch.
Most creative salad: Radicchio, toasted hazelnuts and gorgonzola at Picco
Go to takeout: Love the Chinese chicken salad at Comforts
Farm to table entrée: Crudo with green strawberries at Poggio
Best signature cocktail: The Lorenzo, our secret margarita named after Larry Mindel. It has lots of fresh lime juice, 100% agave tequila and a small amount of agave nectar. Oh, and a floater of good tequila on top!
Best gut bomb: Roadhouse cheeseburger with fries at the Buckeye
Romantic meal: Eating outside on a warm night at Poggio (or even inside on a chilly night in one of the booths). Share the Bistecca Alla Fiorentina and a bottle of Barolo. That's heaven.
Favorite bar dining: Braised lamb tacos at Marinitas
Celebratory dessert: I absolutely love the soft centered chocolate Madelines and chocolate milkshakes at Picco.
Sea bass, blood orange and pomegranate ceviche
More About Joanne
From her first job as a head chef, at the Marin Tennis club in 1982, Joanne Weir has made a name for herself as a chef with numerous cookbooks, two cooking shows, an ipad app as well as a cooking school in San Francisco. Weir, who lives in Tiburon with husband Joe Ehlrich, credits her cooking chops to her culinary hero—her mother, who is also a chef. Next time you visit Copita, she suggests trying The Prado, an 'off menu' drink made with 100% agave tequila, lime juice, a splash of agave nectar, maraschino liqueur and egg white shaken over ice.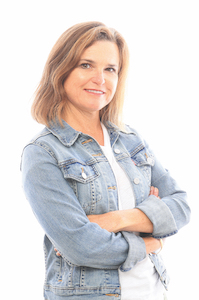 Mimi Towle has been the editor of Marin Magazine for over a decade. She lived with her family in Sycamore Park and Strawberry and thoroughly enjoyed raising two daughters in the mayhem of Marin's youth sports; soccer, swim, volleyball, ballet, hip hop, gymnastics and many many hours spent at Miwok Stables. Her community involvements include volunteering at her daughter's schools, coaching soccer and volleyball (glorified snack mom), being on the board of both Richardson Bay Audubon Center. Currently residing on a floating home in Sausalito, she enjoys all water activity, including learning how to steer a 6-person canoe for the Tamalpais Outrigger Canoe Club. Born and raised in Hawaii, her fondness for the islands has on occasion made its way into the pages of the magazine.