When you're feeling tired or lazy, cooking can be a drag. Ordering delivery can also be problematic: more often than not you may find yourself settling for greasy pizza or greasy Chinese food. But you can wave good-bye to those days, thanks to a few unorthodox options for getting quality meals transported to you here in Marin.
1. Cafe Del Soul Recently, the San Rafael location has started to bring orders to customers via bike, while the Mill Valley location delivers in southern Marin using its very own smart cars. The cars aren't electric — there were no external outlets for the restaurant to use — but city gas mileage clocks in at 39 mpg, making them one of the most environmentally friendly cars on the market. cafedelsoul.net
2. Davey Jones Deli Need catering for an event and want to do it up with special flair? Look no further than this healthful haven. The deli can load its bike with a taco bar for 50 people, though it's also known for paella fundraisers where three-foot pans and propane are strapped on and transported along with the food. With two days' notice, the noemission beast can feed up to 400 people in two trips. daveyjonesdeli.com
3. Fast Food Francais In true European fashion (albeit not French), this local eatery uses a Vespa for deliveries. The scooter and an orange Prius will deliver to homes and businesses in Sausalito and Mill Valley. For now it's mostly dinner, but lunch is doable with a little advance notice. eatf3.com
4. Waypoint Pizza Waypoint Pizza's Protector boat has brought goods to junior sailing Optimist regattas as well as America's Cup vessels. The two largest recipients are The Maltese Falcon — 289 feet — and an oil tanker named Kodiak, although Waypoint most often delivers to vessels moored at Angel Island. Boat delivery is by request depending on availability. waypointpizza.com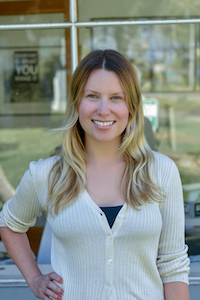 Kasia Pawlowska loves words. A native of Poland, Kasia moved to the States when she was seven. The San Francisco State University creative writing graduate went on to write for publications like the San Francisco Bay Guardian and KQED Arts among others prior to joining the Marin Magazine staff. Topics Kasia has covered include travel, trends, mushroom hunting, an award-winning series on social media addiction and loads of other random things. When she's not busy blogging or researching and writing articles, she's either at home writing postcards and reading or going to shows. Recently, Kasia has been trying to branch out and diversify, ie: use different emojis. Her quest for the perfect chip is never-ending.