For February's Tastemakers of Marin story, I interviewed top Marin chefs about the restaurants and dishes they enjoy when they aren't preparing food for others. Massimo Covello—formerly of Piazza D'Angelo—heads up the kitchen at Tiburon's popular Servino Ristorante, but finds good eats all over the county.
Massimo Covello
Favorite appetizer: One of my signature dishes at Servino is the "Tonno Crudo", with ahi tuna, capers, red onion and toasted crostinis. I also love Chef Jared Rodgers version of Tuna Tartare at Picco and their use of Asian inspired flavors; shiso, sesame and rice cakes.
Most creative salad: This season I have enjoyed the pairing of punterelles from La Tercera Farms and local dungeness crab. This cool, celery-like root vegetable brightens the flavors of the crab. Serve over fingerling potatoes and finish with McEvoy EVOO and you are off to the races.
Go to takeout: Tony Tutto Pizza in Mill Valley. My favorite pizza is the "Puttanesca" with olives and San Marziano tomatoes. I try and get there a few minutes before my pizzas are ready so that I can enjoy a glass of Cerasulo Rose with Tony and talk about another one of our shared passions, music.
Farm to table entrée: Depends on the season, but around this time of year, when the weather is wet and cold out, I love serving simple comfort foods, and slow cooked Stemple Creek lamb shank over a bed of Star Route fava beans is a favorite.
Best signature cocktail: The Farley Bar at Cavallo Point does wonderful take on the classic cocktail the "Boulevardier". They use Bullet Bourbon, Campari and Perucchi Sweet Vermouth, and the historic venue is a delightful place to take in a drink and a unique view of the Golden Gate Bridge.
Best gut bomb: I go crazy for the Porchetta Sandwich from my friend Thomas Odermatt at the Roli Roti food truck at the San Rafael Farmer's Market. It's big, juicy and delicious!
Bringing out-of-towners: When guests are visiting from out of town I enjoy taking them for a scenic drive out to West Marin and stopping off at Osteria Stellina in Point Reyes Station. At Osteria, Chef Chris Chaiazzo is a great ambassador of the local organic food movement, and his menu always reflects the bounty of delicious foods that surround his restaurant. I especially enjoy his farm to table salads and creative appetizers.
Romantic meal: It is a tradition for me to spend special occasions at La Folie. Although La Folie is in San Francisco and not Marin, owner Rolland Passot calls Marin his home (Mill Valley), and has created a career making everything romantic!
Favorite bar dining: I enjoy passing through Frantoio off the 101 for a convenient bite to eat at the bar. All of Chef Duilio Valenti's seasonal Italian specialties are available in the bar area, and hanging out there gives me a chance to catch up with Duilio and debate about who's favorite Italian soccer team is better!
Celebratory dessert: My daughter Gabriella and I both love desserts from Rulli in Larkspur. All of our family birthdays have candles on top of one of Gary's cakes. One of my favorites of the moment is the Braziliana.
La Tercera puntarelles and Star Route baby artichoke over a bed of Green Gulch cauliflower and fingerling potato salad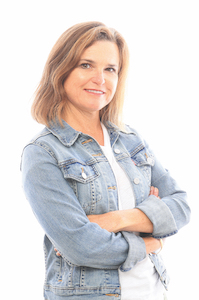 Mimi Towle has been the editor of Marin Magazine for over a decade. She lived with her family in Sycamore Park and Strawberry and thoroughly enjoyed raising two daughters in the mayhem of Marin's youth sports; soccer, swim, volleyball, ballet, hip hop, gymnastics and many many hours spent at Miwok Stables. Her community involvements include volunteering at her daughter's schools, coaching soccer and volleyball (glorified snack mom), being on the board of both Richardson Bay Audubon Center. Currently residing on a floating home in Sausalito, she enjoys all water activity, including learning how to steer a 6-person canoe for the Tamalpais Outrigger Canoe Club. Born and raised in Hawaii, her fondness for the islands has on occasion made its way into the pages of the magazine.