This year's school-lunch set has yet another green option: reusable, biodegradable lunch bags. These treated-vinyl kid-sized meal totes are produced by Streamline Graphix, a graphic media company that makes environmentally friendly digital advertising banners and billboards by using eco-solvent (low-fume) inks on a material called BIOflex — which its distributor touts as the first-ever biodegradable PVC.
"Our industry is not known as eco-friendly," concedes Bill Slattery, who with wife Nancy has run Streamline Graphix for eight years. "But since we've been looking to shrink our environmental footprint and at the same time meet our clients' increased environmental expectations, we searched high and low for a product we could stand behind." How does it qualify? Since an outdoor banner needs to withstand the elements, flexible and durable polyvinyl chloride has long been the digital ad industry's material of choice—so stable it's often used to line the bottom of landfills. BIOflex, however, is engineered to break down in the darkness, heat and moisture of a landfill setting within five years.
Slattery's first BIOflex carriers were a few extra-large surfboard bags he made for his buddies, but once he took note of how many lunch boxes his three school-age girls lost throughout the year, he got the idea for the meal-size tote. The bags can be reused indefinitely, but if they are lost or tossed, they will biodegrade. To make the product, Slattery decided "to join forces with our friends at Sally Spicer Bags," he says. "The crew at Sally Spicer are also conscious about helping the environment, and with their bag expertise, the biodegradable lunch bag was born."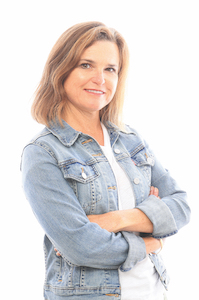 Mimi Towle has been the editor of Marin Magazine for over a decade. She lived with her family in Sycamore Park and Strawberry and thoroughly enjoyed raising two daughters in the mayhem of Marin's youth sports; soccer, swim, volleyball, ballet, hip hop, gymnastics and many many hours spent at Miwok Stables. Her community involvements include volunteering at her daughter's schools, coaching soccer and volleyball (glorified snack mom), being on the board of both Richardson Bay Audubon Center. Currently residing on a floating home in Sausalito, she enjoys all water activity, including learning how to steer a 6-person canoe for the Tamalpais Outrigger Canoe Club. Born and raised in Hawaii, her fondness for the islands has on occasion made its way into the pages of the magazine.