As October winds down, Mark Liebert should be getting nervous. But it should be the good kind of party-hosting butterflies, brought on by the hundreds of positive RSVPs for his second annual Marin Triathlon, scheduled for November 1 at McNear's Beach County Park. The event premiered last year with a 1.5-kilometer swim, 40-kilometer bike and 10-kilometer run, drew 500 triathletes and, thanks to Liebert's green-minded efforts, earned an Evergreen Event Certification, the highest level of certification from the Council for Responsible Sport. In all, the event produced less than 40 pounds of landfill waste, which translates to less than 1.2 ounces per athlete.
A newcomer to the world of fitness, Liebert dedicated the last few decades to his company Western Espresso and Teas; he's only recently delved into competitive swimming and century rides. At 56, he went to his hometown of St. Louis to run his first marathon. Inspired, he created the Marin County Triathlon and the Marin County Marathon so families of Marin can get outside and do something healthy together. This year's event includes a kids' triathlon and family relays the night before on Halloween. To add a bit of star power, Liebert has arranged for U.S. Olympians and professional triathletes to swim, bike and run with the kids.
He's not doing it for the money; 100 percent of the proceeds go to local charities. "If one person can learn one positive lesson from our environmental production and take that home to the family to incorporate into their everyday lives, then we have been very successful," he says.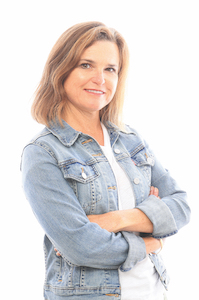 Mimi Towle has been the editor of Marin Magazine for over a decade. She lived with her family in Sycamore Park and Strawberry and thoroughly enjoyed raising two daughters in the mayhem of Marin's youth sports; soccer, swim, volleyball, ballet, hip hop, gymnastics and many many hours spent at Miwok Stables. Her community involvements include volunteering at her daughter's schools, coaching soccer and volleyball (glorified snack mom), being on the board of both Richardson Bay Audubon Center. Currently residing on a floating home in Sausalito, she enjoys all water activity, including learning how to steer a 6-person canoe for the Tamalpais Outrigger Canoe Club. Born and raised in Hawaii, her fondness for the islands has on occasion made its way into the pages of the magazine.