With locations in San Rafael and a new home in Mill Valley, Sol Food is taking over Marin, and we are certainly not complaining. Chefs and diners alike flock to Sol Hernandez's popular restaurant for authentic Puerto Rican cuisine—like maduros, mofongo and bistec sandwiches—served with homemade sauces and dressings. Keep reading to see where in Marin Sol eats when she's not busy feeding the masses.
Sol Hernandez
Favorite appetizer: Vietmanese Shaking Beef at Sushi Ran
Most creative salad: Fattoush with salmon at Insalata's
Go to takeout: Amicis salad and pasta
Farm to table entrée: Hog Island Oysters at the source
Best signature cocktail: Sol Food limeade w/tequeila (at home)
Best gut bomb: Theresa and Johnny's corned beef hash—I get it ½ hash w/ cheddar cheese on top and two eggs over medium. And possibly a homemade biscuit w/ home made jam.
Bringing out-of-towners: Breakfast at Theresa and Johnny's
Favorite bar dining: Ramen at Sushi to Dai For and the Manhattan roll
Celebratory dessert: Pineapple bread pudding at Sol Food
Pollo al Horno with rice, avocado and fried plantains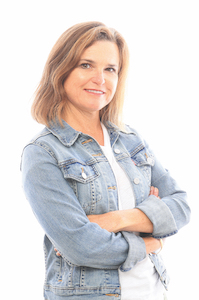 Mimi Towle has been the editor of Marin Magazine for over a decade. She lived with her family in Sycamore Park and Strawberry and thoroughly enjoyed raising two daughters in the mayhem of Marin's youth sports; soccer, swim, volleyball, ballet, hip hop, gymnastics and many many hours spent at Miwok Stables. Her community involvements include volunteering at her daughter's schools, coaching soccer and volleyball (glorified snack mom), being on the board of both Richardson Bay Audubon Center. Currently residing on a floating home in Sausalito, she enjoys all water activity, including learning how to steer a 6-person canoe for the Tamalpais Outrigger Canoe Club. Born and raised in Hawaii, her fondness for the islands has on occasion made its way into the pages of the magazine.