Some claim California doesn't have any seasons. Of course we do. Summer means tomatoes and strawberries; winter is kale and blood oranges; spring, asparagus and artichokes; and fall brings treasures like butternut squash…and white truffles from Italy. The Tuber magnatum is mostly found in specific northern and central Italy locales, growing on the roots of oak, hazel and beech trees. For centuries people have used sows and dogs to find and dig up these earthy gems deemed a condiment worthy of the gods. Today the sows are out of favor (they tend to eat the booty), and people have turned to the highly developed snouts of trained canines. Once unearthed, these normally golf-ball-size fungi make their way to high-end restaurants around the world.
A quick Google search for "white truffle bay area" brings up Sausalito's Poggio restaurant, just below gotampa.com (the "other" bay area). Why? Peter McNee, executive chef at the Bridgeway trattoria, holds a weeklong truffle celebration to bring the authentic taste of Italy to his customers. Prior to serving them, he flies to Italy to find them. Having lived in Toscana, another region known for truffles, McNee has almost earned his own trifulau (truffle hunter) stripes. For the past few years he has been meeting with winemaker Paolo Sartirano to continue the search for the best truffles overseas.
What he doesn't find in the field, McNee shops for at the truffle market that opens every year in September through November in the Italian southern Piedmont town of Alba. "For a single euro entry fee you are treated to a view of salumi, cheeses and thousands of fresh-dug truffles…you can smell their sweet earthy aroma as soon as you walk into the fair," McNee says. "Once the trifulau sees that you're serious, he'll reach down below the crate and pull out a big handkerchief and show you the ones they just found that morning." Despite McNee's fluency in Italian, Sartirano usually does the final bargaining to get the best deal.
"You can't compare it to anything else," says McNee regarding the taste of white truffles. "It's garlicky, with hints of honey and hay; even chestnuts. The aroma of truffles is said to take possession of the soul." Regarding its rumored status as an aphrodisiac, he explains, "when you smell the truffles, the aroma gets your mind racing, then your heart. The aphrodisiac qualities have been written about since ancient times; in fact the Romans dedicated truffles to Aphrodite. Perhaps it's when truffles are paired with food and wine (drunk in much quantity), that the rumor holds true."
The Italian view of this delicacy is that when you have a truffle with a meal, the truffle makes it perfect. However, there are certain foods that go with truffles and some that don't. "You don't just shave truffles on a steak," McNee says. Instead, "you shave truffles on eggs, on perfectly prepared risotto, ravioli or tagliolini. The important thing is that the flavor of the food does not overwhelm the aroma of the truffle."
Reputedly one of the most expensive food items around, truffles can cost thousands of dollars a pound. The priciest specimen to date was reported in Tuscany in 2007, when a dog named Rocco unearthed a three-and-a-half-pound specimen that sold for $330,000.
Since white truffles are not easy to come by for the Marin home chef, restaurants are the easiest place to sample them. In years past Mill Valley Market and Woodlands Market have carried them, but they are just too expensive and fragile to stock, say both Mill Valley's Dave Cannapa and Woodlands' Jennifer DeBonis. The last year Woodlands offered them, they'd gone up to $3,000 a pound, meaning a single white truffle would cost nearly $400. Not even Marin shoppers will pay that price.
"We shave five grams per serving, which costs the customer about $35," explains McNee. "We want the customer to get enough to really understand what all the excitement is about. It's not about having truffles in every course—it's about getting truffles where they fit best." In other words, this is a taste to be savored; "supersize me" addicts need not apply.

---
Dining in Truffle Country
"During my trips to Piemonte, specifically Langhe, I have eaten at Da Felicin in Monforte and Da Cesare, both wonderful traditional trattoria, serving really excellent Piemontese cuisine including truffles when in season and having sought-after wine lists."
Southern Toscana
"Il Falconiere (the Falconer) in Cortona is a world-renowned Relais & Châteaux 'ristorante moderno' in Carru, (a region that) specializes in bollito misto."
"In Serralunga, there is a wonderful grappa distillery named Marolo where you can see the old-style grappa production and taste several ages. Really great."
Movimento del Turismo de Vino: "The organization, which has been around since 1993, is truly committed to sharing the authentic methods of Italian wine production and enjoyment of wines and food."
---
Field Notes
A typical day for an American trifulau
Breakfast "I (normally) don't really drink that much coffee, but I drink coffee the entire time I'm in Italy," says McNee. "I meet up with Paolo for an espresso at Grappolo d'Oro in Monforte d'Alba. After a while, we'll hop in his car and drive through the hills of Barolo country on our way to taste some wine and cheese and do some wine tastings (we buy a lot of his wines for Poggio) and then we go to the truffle market."
Lunch "This meal means a couple bottles of wine, and a couple dishes of antipasti, primi, followed by a cheese cart. We usually eat too much and then we go to the grappa distillery. At that point, I like to just smell and not taste."
Truffle Hunt "It is because of my friendships that I have been invited to come truffle hunting. The trifulau do not like to share their secret truffle locations with anyone. Last year we went with a trifulau named Luigi, who was Paolo's business partner's father-in-law. The trifulau (we go with) is usually related to someone we've met along the way. The hunt can take hours, and it's basically a game of chasing the dogs. The trifulau grunts, yells and whistles as the dogs run around. When a dog finds one, the trifulau will carefully excavate it, show it to me and put it in his pocket. Luigi was so funny with his dogs: he would just yell at them, 'cane, cane' (dog in Italian) and slap a stick on the ground."
"After a while, I felt pretty ridiculous chasing the dog's every whim at top speed. I didn't understand any other word Luigi said since he speaks just the local dialect. But through Paolo, I asked why he had two dogs, and he said that there is always one dog leading and one dog training, so when the older dog passes away he has trained the younger dog. That's so Italian."
Dinner "Here's a typical experience: I had a meal at a friends' house where they had a coal-burning open fireplace in the middle of the living room. We all sat around the fireplace and watched a soccer match on television. After we ate some pasta, someone pulled out chestnuts and roasted them on a grate over the fire. Then my hosts proceeded to argue about the best way to cook chestnuts—adding water to steam them or cooking them hot and fast. We ate chestnuts with our hands, breaking them and sharing them with one another. This is what I love about Italian culture—food is a way of bringing people together, not just sustenance."
Does he gain weight? "Always. Every year I have high hopes that before I go, I'll do a detox, go to the gym, not drink wine, only eat at home before the trip. And I don't."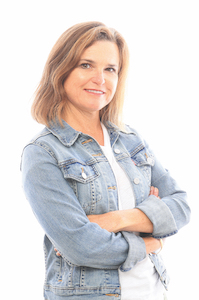 Mimi Towle has been the editor of Marin Magazine for over a decade. She lived with her family in Sycamore Park and Strawberry and thoroughly enjoyed raising two daughters in the mayhem of Marin's youth sports; soccer, swim, volleyball, ballet, hip hop, gymnastics and many many hours spent at Miwok Stables. Her community involvements include volunteering at her daughter's schools, coaching soccer and volleyball (glorified snack mom), being on the board of both Richardson Bay Audubon Center. Currently residing on a floating home in Sausalito, she enjoys all water activity, including learning how to steer a 6-person canoe for the Tamalpais Outrigger Canoe Club. Born and raised in Hawaii, her fondness for the islands has on occasion made its way into the pages of the magazine.