Easy Paddles
MCNEARS BEACH PARK Start this 4-mile paddle from the foot of the boat ramp in front of the pool at McNears Beach. Veer left off the beach and hug the shore; you may pick up a slight flood tide that will push you to the only island within your line of sight. Be careful to take the island wide, as the rocks can pose a risk. To make this trip more challenging, include a loop around the Sisters islands off to the east. AREA: San Rafael. BEST TIDE: Flood
HARBOR COVE PARK, MILL VALLEY This trip is a popular go-to when it's windy and one needs a calm, protected easy paddle. Launching from the boat dock at Harbor Cove, head right and stay inside the canal. Besides the view of San Francisco you will see leopard sharks and manta rays darting away under your boat or board. Should be a 2-mile roundtrip from the dock around the island. AREA: Mill Valley. BEST TIDE: Flood
CORTE MADERA CREEK Paddle from the public dock next to the Marin Rowing Association boathouse; veer right from the dock, paddling along the creek until you reach the Bon Air Road overpass. This is the turnaround point for the 2-mile round-trip. You can go farther up the creek at high tide. AREA: Larkspur. BEST TIDE: Flood
Intermediate Paddles
TOMALES BAY–NICK'S COVE TO HOG ISLAND Start at Nick's Cove from the Marin parks boat ramp for the 2-mile round-trip paddle out and around Hog Island. Tomales Bay delivers wildlife galore, in and on the water — from birds to seals, you will see it all. Finish up with a dozen oysters at Nick's Cove Restaurant and Oyster Bar. AREA: Marshall. BEST TIDE: Ebb
CONE ROCK Start at Schoonmaker Beach and paddle 1.1 miles (2.2 miles round-trip) directly across to Tiburon/ Belvedere, to a rock structure with an indicator light on it (the only one). The high point is threading your way through the anchor-out boats in Richardson Bay. AREA: Sausalito. BEST TIDE: Flood
MARIN ISLANDS Start at 101 Surf Sports in San Rafael to enjoy a wonderful 5.5-mile paddle from the dock to the San Rafael Creek/Canal. Look for West Marin Island first, then East Marin Island; go between the islands or paddle the total distance around East Marin Island. Be mindful of the wind and tide at this location. AREA: San Rafael. BEST TIDE: Flood
Expert Paddles
ANGEL ISLAND ROUND-TRIP FROM SAUSALITO About 9.5 miles from Schoonmaker Beach in Sausalito, a circumnavigation of Angel Island will provide spectacular views of the bay. The best time to attempt this is early in the morning when the wind is light. AREA: Sausalito. BEST TIDE: Flood
SAUSALITO TO YELLOW BLUFF Start this 5-mile round-trip paddle by setting your sights on the Spinnaker Restaurant. Stay close to the Sausalito Yacht Club, duck under the ramp at the ferry dock and head toward the Golden Gate Bridge; past the Water Treatment Plant, a small point will appear — that's Yellow Bluff. AREA: Sausalito. BEST TIDE: Flood
FORT BAKER TO MILL VALLEY DOG PARK This round-trip paddle of more than 10 miles launches from Horseshoe Cove at Fort Baker. Leave the cove and head left, passing Yellow Bluff and downtown Sausalito and entering Richardson Bay. Pass under the Highway 101 overpass where the bay narrows at the dog park. AREA: Sausalito. BEST TIDE: Flood
BOLINAS TO STINSON BEACH A 3-mile shore-to-shore paddle. Launch in Bolinas at the end of Brighton Avenue and veer left, staying outside the surf line. Enjoy the cruise past the Seadrift community, keeping the end of Stinson Beach in your sights. Make your landing at the Stinson Beach lifeguard tower. AREA: Stinson Beach. BEST TIDE: Flood-Slack
---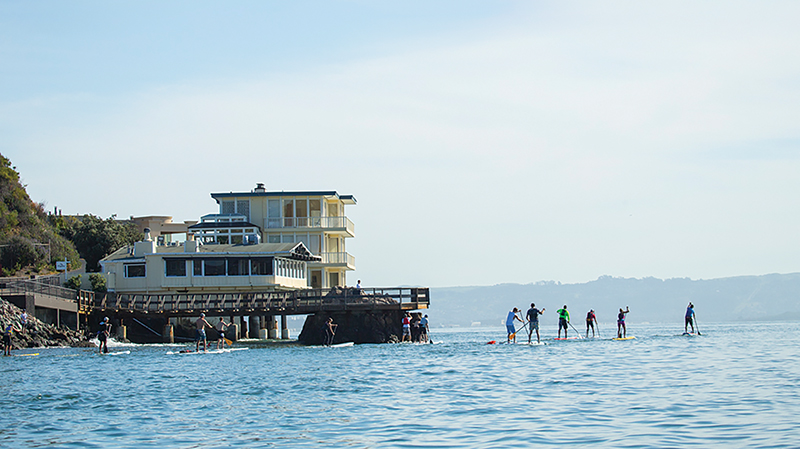 Downwinders
BARBARY GHOST BOAT ASSISTED PADDLEBOARD ADVENTURES Barbary Ghost has the Bay Area's only charter boats geared especially to boat-assisted stand-up paddleboard tours, which range from scenic flat-water paddles to adrenaline-pumping downwinders. Vessels are outfitted with custom SUP racks, a bumper swim deck and all other amenities befitting a roaming base station for paddle adventurers — right down to the complimentary power bars and guest towels. Downwinding with a support boat allows access to remote areas, added safety, and the convenience of skipping the dreaded car shuttle. AREA: San Rafael
DOWNWIND PADDLE ON TOMALES BAY Long known as a very windy place in the summer, Tomales Bay delivers some epic conditions for downwind padding. The Tomales downwinder run starts at Nick's Cove in Marshall and finishes at Marconi Cove. It's about a 5-mile downwind ride that pumps out endless chop and bump riding. Always paddle with a buddy or a group: remember, you need a ride back up the highway after your downwind run, and paddling with a buddy makes car shuttling much easier. AREA: Marshall
Water Sport Essentials
SAFETY
Prior to attempting any of the recommended paddles, please heed the following safety tips:
• Wear a leash on your stand-up paddleboard
• Wear or bring a personal flotation device
• Paddle with a partner
• Let someone know you are going for a paddle, and check in on your return
• Know before you go; check conditions, tides and intended route
WHAT TO BRING
• Hat/Visor
• Sunscreen (apply liberally)
• Cellphone in waterproof case
• Water for after paddling
• Towel
• Personal flotation device
SAN FRANCISCO BAY TIDES EXPLAINED
Flood Tide When the bay is filling up, also known as an incoming tide — low tide to high tide.
Ebb Tide When the bay has an outgoing tide — high tide to low tide. Slack
Tide/Water Tidal Current has near zero movement.
TIDE APPS
Hi-Tide available for Apple and Android; tideApp available for Apple and Android.
TIDE WEBSITES
NOAA Tides and Currents tidesandcurrents.noaa.gov/tide_ predictions.html?gid=235
Tides4Fishing tides4fishing.com/us/california/san-francisco
CHARTS
Tidelog by Pacific Publishers tidelog.com