---
Sahar Aziz + Brian Anderson
The Andaz Maui, Wailea, December 4, 2015
WEDDING CELEBRATIONS COME in various forms and sizes, but for this Tiburon couple, the old adage "quality over quantity" held true. "Brian and I came to Hawaii in January 2014 for a vacation and the thought then occurred to us, 'Why don't we get married here in paradise?' " After some grueling research (read: an additional trip to Maui and Kauai to vet venues) the couple decided the Andaz Maui was their spot. Even though the guest count of 28 was lower than anticipated, the intimacy was appreciated. "The beauty of a destination wedding is that we had more time to spend with our guests that traveled so far to witness our nuptials," says the bride. "At times, it just feels like you are on a long vacation with your best friends and family — which lowered the stress factor tremendously." The latter was important, given the truncated time frame they had to arrange the event: "If we could have done anything differently we would have loved more time for planning, as this was a fun but somewhat stressful five months," Sahar says. Rushed preparations aside, the rest was smooth sailing. For Sahar, who admits to not being the kind of bride who had a vision of what her wedding would look like, having help was key.
"The wedding coordinator, Laura Amerio, was beyond accommodating." There were, however, moments that went happily off script. The couple had planned to write their own vows, then decided against it at the last minute. But Brian surprised Sahar during the reception and recited his own vows in front of everyone anyway. The groom seems to relish the unexpected — he proposed before the two of them took an evening helicopter ride over Chicago. At the reception, heartfelt speeches from family members created unforgettable moments. "My father-in-law, who was fighting terminal cancer, recited a special prayer poem during our ceremony," says the bride. "That meant so much to us."
VENUE Andaz Maui Resort, Wailea,
PHOTOGRAPHY Pacific Dream Photography,
EVENT PLANNING AND DESIGN Andaz Maui Resort,
FLORAL Bella Bloom Maui,
RENTALS Hawaiian Style Event Rentals,
MUSIC Maui DJ services,
DRESS Essense of Australia,
ALTERATIONS Novella Bridal,
GROOM'S SUIT Proper Suit,
BRIDESMAID DRESS Amsale,
HAIR AND MAKEUP Andaz Salon,
INVITATIONS Minted,
---
Ashley Roebken + Joe Leoncavallo
Westin St. Francis, San Francisco, June 25, 2016
THERE ARE FIVE-YEAR plans, 10-year plans and plans that exist unbeknownst to us. Ashley and Joe had a common bond for decades, but they didn't learn that until they met. "Joseph was born and raised in Noe Valley and had frequently visited my great grandfather's pharmacy down the road on 24th Street," says Ashley, a Kentfield native. Several years later, when Joe proposed, another neighborhood landmark came into play: every Christmas, one Noe Valley resident decorates the tree on the sidewalk in front of her house with lights, placing a mason jar below; people passing by write down a wish on a piece of paper and place it in the jar. The homeowner laminates these wish-notes and hangs them from the tree. Joe wrote, "I hope she says yes," then searched for his wish among the hundreds of tags in ensuing days. He found it, cut it down and the following year proposed to Ashley next to the tree with the laminated wish. Their wedding was equally inspired. They chose the Westin in San Francisco, with its 360-degree views of the city lights. Meaningful, loving speeches from both fathers as well as the reverend were among the standout moments. "The first dance and the father-daughter dance were highlights for me," the bride adds. "Having those two dances with the best men in my life that I love so much will forever be cherished and kept in my heart." Discreet photography and filming made a very public occasion with 180 guests feel very private. Fantastic food abounded, and a friendly, responsive staff ensured the event went off without a snag. But the real beauty was in the details. The wedding menu featured an image of the couple's boxer, Bella, and Ashley carried a bouquet with a photo of her grandparents on their wedding day affixed to the back. Touches like this along with three musical acts (string quartet, live band, and a DJ) made for an unforgettable night, confirming that wishes aren't reserved for wells and stars — given how this couple's roots were intertwined, of course they'd wish upon a tree.
VENUE Westin St. Francis, San Francisco,
PHOTOGRAPHY Clane Gessel Photography,
VIDEOGRAPHY CineMATT Films, cinematt.com
EVENT PLANNING AND DESIGN Stanlee R Gatti Designs, stanleegatti.com
FLORAL Stanlee R Gatti Designs, stanleegatti.com
MUSIC Gatsby Entertainment's Live Band and Green Light Band,
RENTALS Stanlee R Gatti Designs,
DRESS Zuhair Murad,
GROOM'S SUIT Vera Wang,
BRIDESMAID DRESS Amsale,
HAIR AND MAKEUP Elizabeth Chang,
INVITATIONS Linda Wanczyk at Bay Area Graphics,
---
June Yokell + Steven Andresen
Servino Ristorante, Tiburon, June 18, 2016
WHILE IT WASN'T romantic at the time, June and Steven made a connection at California College of Arts and Crafts (now known as California College of the Arts) that proved lasting. They met at the school in 1972 when Steven was a grad student in painting and June a transfer student in the core program; he was friends with June's then-boyfriend. After graduating, Steven worked as a picture framer, June brought him her work to be framed, but other than that they each went about their lives and their art careers — he painting and teaching in the East Bay, she doing the same in Marin — for 20 years. It wasn't until 2011 that their paths really crossed again and the platonic connection became much more. When it came to their wedding, they were likewise head over heels. "We loved the food! We loved our cake! We loved our flowers! We loved our photographer!" June says. Many in attendance were also artists, including some affiliated with this magazine: frequent Marin contributing photographer Todd Pickering shot the wedding, and the bride herself was one of our cover contest finalists in 2015. For a venue, the couple chose Servino Ristorante in Tiburon. "It's a beautiful place," June says; "we liked the room where everything would be held, we liked looking out on the water, we loved the food, and we loved working with the events coordinator, Donna Nicoletti." Highlights included the bride's 94-year-old dad walking her down the aisle and something else truly unique — one guest phoned his wife during the party so everyone could watch her demonstrate a Japanese coal miner's dance, to a song by the Rolling Stones.
VENUE Servino Ristorante,
EVENT PLANNING AND DESIGN Donna Nicoletti at Servino
PHOTOGRAPHY Todd Pickering,
FLORAL Karen Rossi at Good Earth Natural Foods, Fairfax
MUSIC DJ Michael Cochran
DRESS Sundance,
GROOM'S SUIT The Men's Wearhouse,
HAIR Wendy Sanchez
INVITATIONS Wedding Paper Divas,
CAKE Branching Out Cakes,
---
KK Cressman + Mike Sample
Jack London State Historic Park, Glen Ellen, September 24, 2016
THERE IS NO equation to decide whether love is real; you have to believe the feelings are true. For this couple, no questioning was required. "I knew right away that Mikey was my Mr. Perfect," the bride says. "I texted my older brother after our first date saying, 'I think I just went on my last first date!' " From the proposal to the vows, the union was very much a North Bay fairy tale, with Marin and Sonoma playing big roles. Mike proposed at the Golden Gate Vista Point in the Marin Headlands — dressed in disguise, his best friend and younger brother photographed the event. A celebratory beverage followed at Scoma's in Sausalito, and then an aerial jaunt at Seaplane Adventures. Well, almost. "Mikey had surprise-scheduled the plane ride for us, but I chickened out, so we're thinking about trying again for our one-year anniversary." When it came to choosing a location, the bride knew just the place. Her parents own a home in Glen Ellen, and ever since childhood, KK had often gone hiking around Jack London State Historic Park and dreamed of being married under the stone arches in the Winery Ruin. "Basically, I've been practicing walking down the aisle for the last 20 years," she says, laughing. For the wedding, time spent on personal and distinctive touches paid off: a cocktail hour under a huge oak tree allowed the couple to connect with a lot of guests in a beautiful setting. One element that didn't require planning was one that's often the most exhausting for a bride — finding a dress. KK chose an upcycled gown first worn by her grandmother in the 1950s and then by her mom in the '80s. The dance floor remained packed all night, and rock walls with amber lighting cast a magical glow. "Our wedding was a perfect combination of classic and country and demonstrated who we are as a couple," she says.
VENUE Jack London State Historic Park, Glen Ellen,
PHOTOGRAPHY TréCreative,
EVENT PLANNING Dreamers and Heroes,
EVENT DESIGN Victoria Cressman
REVEREND Peadar Dalton,
CAKE Dianda's Bakery,
FLORAL Bloomingayles,
MUSIC Lucky Devils,
RENTALS Bright Rentals,
CATERING Park Avenue Catering,
DRESS upcycled by the bride
GROOM'S SUIT Hugo Boss,
BRIDESMAID DRESS Amsale,
HAIR AND MAKEUP Milvali,
INVITATIONS Barbara Callow Calligraphy,
BRIDE'S RING Tiffany & Co.,
GROOM'S RING Kathleen Dughi,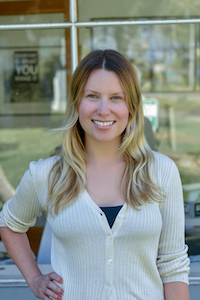 Kasia Pawlowska loves words. A native of Poland, Kasia moved to the States when she was seven. The San Francisco State University creative writing graduate went on to write for publications like the San Francisco Bay Guardian and KQED Arts among others prior to joining the Marin Magazine staff. Topics Kasia has covered include travel, trends, mushroom hunting, an award-winning series on social media addiction and loads of other random things. When she's not busy blogging or researching and writing articles, she's either at home writing postcards and reading or going to shows. Recently, Kasia has been trying to branch out and diversify, ie: use different emojis. Her quest for the perfect chip is never-ending.