When Sausalito's Emily Luchetti, pastry chef for both Waterbar and Farallon Restaurant in San Francisco, graduated from college, she took a cooking position while looking for a career. What she didn't realize at the time was how close she came to finding her ultimate job. "After working on the culinary side for seven years, I switched to baking," she says. "A half hour in the kitchen and I knew I was where I was supposed to be." Why creamsicles? "People think there isn't much seasonal produce in the winter, but there really is. When writing dessert menus in winter I want to make sure there is some color and brightness of flavor. Citrus does that. These sun-filled treats contrast with the weather and make us feel better."
Blood Orange–Vanilla "Creamsicle"
Serves 6
Ingredients
For the blood orange sorbet (or use
store-bought):
2 3/4 cups blood orange juice, strained (about 12 blood oranges)
1 cup sugar
2 3/4 teaspoons freshly squeezed lemon juice
Large pinch of kosher salt
For the vanilla custard:
1 vanilla bean, split lengthwise with seeds scraped out
2 1/2 cups heavy (whipping) cream
1 cup milk
1/2 cup sugar
2 1/4 teaspoons plain gelatin
2 tablespoons water
3 blood oranges, peeled and segmented
To make the sorbet:
1 In a large bowl, combine the blood orange juice, sugar, lemon juice and salt. Stir until the sugar dissolves. 2 Refrigerate for at least two hours or up to overnight. 3 Churn in an ice cream machine according to the manufacturer's instructions. 4 Freeze until the dessert can be scooped, about two hours, depending on your freezer.
To make the vanilla custard:
1 Combine the vanilla bean, seeds, cream, milk and sugar in a medium saucepan. 2 Heat on medium, stirring occasionally, until almost simmering. 3 Turn off the heat and cover the pan, letting the vanilla bean steep in the liquid for 10 minutes. 4 Stir together the gelatin and the water in a small bowl; let stand for five minutes. 5 Strain the cream mixture into a bowl, discarding the vanilla bean. Stir the gelatin mixture into the cream with a heat-resistant plastic or wooden spatula. 6 Let the liquid cool to warm, stirring occasionally, about 10 minutes. (Stirring prevents the gelatin from sinking to the bottom of the hot liquid.) 7 Pour the vanilla custard into six ramekins. 8 Refrigerate until set, at least four hours. (Note: The creams may be made up to two days ahead. Once firm, cover with plastic wrap and refrigerate.)
To serve:
1 Unmold by dipping the bottom of the ramekins in a bowl of very hot water. 2 Run a knife around the inside edge of each cream and invert onto a plate. 3 Arrange the orange segments around the creams. 4 Place a scoop or quenelle of sorbet on top of the custard, and serve immediately.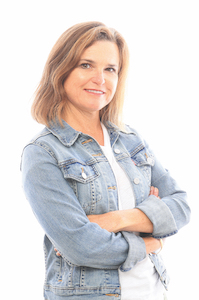 Mimi Towle has been the editor of Marin Magazine for over a decade. She lived with her family in Sycamore Park and Strawberry and thoroughly enjoyed raising two daughters in the mayhem of Marin's youth sports; soccer, swim, volleyball, ballet, hip hop, gymnastics and many many hours spent at Miwok Stables. Her community involvements include volunteering at her daughter's schools, coaching soccer and volleyball (glorified snack mom), being on the board of both Richardson Bay Audubon Center. Currently residing on a floating home in Sausalito, she enjoys all water activity, including learning how to steer a 6-person canoe for the Tamalpais Outrigger Canoe Club. Born and raised in Hawaii, her fondness for the islands has on occasion made its way into the pages of the magazine.