By the time this article is published, the Tavern at Lark Creek's executive chef, Aaron Wright, should be exhausted, blurry-eyed and ready for a vacation—not because of his all-hours kitchen gig but his job as father to new son Evan. In the chef's hat, Wright has pleased palates in Seattle at Canlis Restaurant; Earth and Ocean in W Hotel; Andaluca in the Mayflower Park Hotel; and most recently, Calistoga Ranch. We asked him for the dish on his background and to share some favorite recipes for spring.
Where did you learn to cook? First, from my family, who would plant backyard gardens and cook elaborate holiday feasts. Secondly, in the kitchens of the Pacific Northwest, working alongside and learning from multiple chefs and restaurateurs.
What do you like to do when you are not in the kitchen? You can find me most often in my backyard container garden tending to my plants and vegetables. Also bicycling and spending time with family.
How long does it take to prepare the tombo tuna salad (below right), and what can be done ahead of time? If you are serving four people, I would say it wouldn't take more than 30 minutes to prepare. The mango, avocado and dressing can all be done ahead.
How long does it take to prepare the soup? What can be done ahead of time? The soup can be made in 30 minutes with a simpler garnish. Garnishes can be made ahead, and [that] is suggested since soup is always better the next day. The time lets the flavors develop.
How do you keep the avocado looking fresh in the salad? Olive oil, salt and a little squeeze of lime, kept in a bowl with plastic wrap pressed against the avocado to eliminate all air exposure.
Is tombo on the Seafood Watch list? If it is, what can it be substituted with? Tombo tuna, also known as albacore tuna, earns a "best choice" from the Seafood Watch list. This salad [also] works great with Dungeness crab and shrimp.
Where did you get these recipes? I helped develop the tuna dish for the California Avocado Commission while working at Canlis in Seattle. The asparagus soup is a crowd-pleaser that I've made multiple times before.
Asparagus Soup
Presented here, the dish is accompanied by crispy prosciutto, grated pecorino lucano and crushed pine nuts. Note: Pouring soup tableside is an elegant way to serve it to guests. Or, pour into a pitcher and place on the table for self-service.
1 medium onion, peeled and sliced thin
2 tablespoons butter
2 teaspoons fresh minced garlic
1/2 pound asparagus
1/4 cup white wine
2 cups chicken broth
1/2 cup whipping cream (optional)
1/2 pound baby spinach
salt and pepper to taste
In a large pan, over medium-high heat, sauté the onions in butter until they start to caramelize. Season during this period to help extract liquid from the onions. Add garlic, stir in and sweat it, then deglaze with white wine and reduce the liquid. Add the chicken broth and cream (if using), bringing the mixture to a boil. Add asparagus and allow mixture to return to a boil. Transfer mixture to a blender, add the spinach leaves and blend until smooth. Force the puree through a strainer, pressing hard on solids to extract the soup. Discard the tough fibers left in the strainer. Season soup to taste with salt, pepper and a splash of sherry vinegar if it seems needed. Serves 4.
Seared Tombo Tuna with Avocados, Mangoes and Tomatoes
2 one-ounce portions tombo tuna
1 ounce mangoes, diced small
1 ounce avocados, diced small
1 teaspoon chives, thinly sliced
2 teaspoons extra-virgin olive oil
Salt and pepper to taste
1/2 ounce green onions, sliced on a bias
1/2 ounce microgreens or sprouts
1/2 ounce tomato vinaigrette (recipe follows)
3 cherry tomatoes
1/8 ounce white fish caviar (optional)
1/2 teaspoon capers
Clean and portion the tuna; set aside. Dice mangoes; set aside. Dice avocados; place in bowl. Mix in chives and olive oil, season with salt and pepper; set aside. Halve tomatoes; set aside. To assemble, choose a plate to assemble the mango-avocado salad and seared tuna. In a ring mold, add mangoes with a spoon, filling the bottom half inch of the mold. Add avocado mixture with a spoon for another half inch, smoothing off the top. Add microgreens or sprouts, dressed with a little olive oil, on top of the avocado. Carefully remove ring mold. Dress the plate with the tomato vinaigrette.
Season tuna with salt and pepper and set aside. In a sauté pan, heat oil to smoke point and sear tuna on one side. (This gives a nice contrast to the tuna.) Once the tuna is done, remove from pan and arrange on plate. Finish by arranging tomatoes, caviar (if using) and capers around the tuna.
Tomato Vinaigrette
1 pint cherry tomatoes
3 ounces extra-virgin olive oil
salt and pepper to taste
Rinse and dry tomatoes; add to blender. Blend on medium-high, slowly adding the olive oil; season mixture with salt and pepper. Reserve and refrigerate for up to two weeks.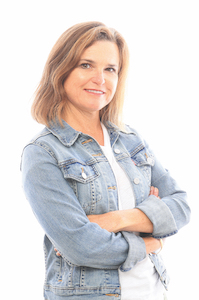 Mimi Towle has been the editor of Marin Magazine for over a decade. She lived with her family in Sycamore Park and Strawberry and thoroughly enjoyed raising two daughters in the mayhem of Marin's youth sports; soccer, swim, volleyball, ballet, hip hop, gymnastics and many many hours spent at Miwok Stables. Her community involvements include volunteering at her daughter's schools, coaching soccer and volleyball (glorified snack mom), being on the board of both Richardson Bay Audubon Center. Currently residing on a floating home in Sausalito, she enjoys all water activity, including learning how to steer a 6-person canoe for the Tamalpais Outrigger Canoe Club. Born and raised in Hawaii, her fondness for the islands has on occasion made its way into the pages of the magazine.