Maria Vieages has a laugh that's captivating and a smile that puts novice chefs at ease. True to her Southern hospitality roots, the first thing she does when meeting a visitor is offer a treat—in this case a small espresso cupful of chicory-enhanced New Orleans coffee. "It's bitter, but you'll get used to it," she says. It is and you do, but the mental stimulant should also prove useful, because in the next three hours there's lots to learn.
Vieages is just one of the chefs working with Beautiful Places, a Sonoma-based concierge "epicurean travel" service. The itinerary: private cooking classes in your very own (for the night) wine country villa. Our venue is Casa Cavalli, a gated three-story home on two tranquil acres with views of Sonoma's western hills. The expansive four-bedroom, three-bath place can handle as many as eight, but for this class the two of us have it to ourselves. Vieages has designed our "lesson plan" around an alfresco wine country lunch, but Beautiful Places customizes classes for any size group or culinary taste. "I'm really easygoing; I've changed menus on the spot to accommodate the students," Vieages says. When a recent class was intrigued to hear of her famous gumbo, she instantly switched game plans to run out and gather the ingredients at Sonoma Market.
Vieages, who left New Orleans during Hurricane Katrina with "not a dollar, but a passion for cooking" thinks making house calls to teach kitchen wizardry is a great idea. "It's perfect: (people) can learn to create a new dish, enjoy as much wine as they want and don't have to drive anywhere."
Our location for the day Casa Cavalli, has an open kitchen, a built-in wine fridge, top-of-the-line appliances and a chef's table; the room opens into a solarium with floor-to-ceiling windows overlooking vineyards in the distance. Groups who like the finer touches can feast post-lesson in the villa's formal dining room, complete with baby grand piano and views of the area's oak and redwood trees.
Our menu for the day: stacked napoleons with avocado and Dungeness crab sourced from Bodega Bay's Tides Wharf Fish Market; a pan-seared Sonoma Liberty Farms duck breast topped with farmers' market fruit coulis; and dessert beignets. Vieages instructs us not to be intimidated by duck's fine-dining rap; "it's just like chicken," she says, slicing away a thin layer of fat she'll later explain how to render into savory cracklings.
Squelching any hope of one's pants actually fitting the next day, the meal ends with what could be this chef's pièce de résistance. These are beignets with a decidedly wine country spin: fresh puréed local blackberries infused with pasilla pepper and lime juice drizzled on top. The chef says it'll be no problem re-creating this at home, but it's hard to believe anyone could ever duplicate such a perfect wine country day.
Skillet Seminars
From cocktails to canapés, the wine country abounds with hands-on culinary classes; here are a few favorites.
Philo Apple Farm
This rustic yet luxe farmhouse/cooking school has been a popular weekend destination for over 15 years. Teaching is offered at two speeds: serious and relaxed. In both cases the tuition (not including lodging) covers meals, recipes, instruction and wine for the class. For the serious, the teaching format includes Friday and Saturday dinners, Saturday lunch and Sunday brunch; $625 per person. The Relaxed Farm weekend includes a Friday and Saturday night stay, a farm tour, and cooking instruction with Saturday dinner and Sunday brunch only; $225 per person. A two-night stay in an on-site guest cottage costs $500. philoapplefarm.com/classes.html
Relish Culinary Adventures
This "roving" roster of chef-led adventures was created by foodie/entrepreneur Donna Del Rey to showcase Sonoma County food and wine. Most classes happen at the Relish Culinary Center on Matheson Street in Healdsburg, though they're also offered countywide. Two to look for: the hands-on "Chef's Market" sausage-making course October 16 and the "Thanksgiving sides" show November 13. In the former, Italian chef and charcuterie artist Franco Dunn shows how to make Calabrese sausage (spicy pork with fennel, chilies and garlic) and Luganega (coiled pork sausage with Parmigiano, provolone and spices in a lamb casing). "Participants will make the sausage from scratch, grinding the pork, learning about and kneading in the spices, and learning how to fill natural casings," says Del Rey; in the process they'll also learn "a wide variety of cooking techniques, including old world Italian methods." For the November class, Jimtown Store proprietor Carrie Brown (also a vendor at the Healdsburg Farmer's Market) and chef Peter Brown (no relation) will lead a tour of the Farmers' Market in search of "everything but the turkey." relishculinary.com
Vineyard 29
If getting your hands on some of the hardest-to-get bottles from Philippe Melka's Vineyard 29 isn't reason enough to visit the St. Helena winery, the new half-day cooking classes led by chef and director of hospitality Austin Gallion should suffice. Gallion brings the freshest in-season items from local farmers' markets to the Vineyard's kitchen and, after your in-depth tour of the winery (glass of vino in hand), shows how to prepare a wine country three-course meal. $500 per person, vineyard29.com
Spoonbar
Mixologist Scott Beattie's concoctions have been called "drinkable art"; the author of Artisanal Cocktails uses fresh herbs and local farmers' market fruits and vegetables to create his unique drinks. These days his work can be savored at Spoonbar, the hip restaurant inside H2 Hotel. But folks wishing to mimic his handiwork at home can take one of the small classes he holds at the hotel. An "Apple Season" seminar shows how to craft a whiskey drink made with apple juice and garnished with a Thai coconut apple foam and dehydrated apple chips. October 23, $50, class size limited to 30. h2hotel.com
Culinary Institute of America
Classes at CIA Greystone range from a five-hour "Taste of CIA Cookbooks" to a two-hour "Samplings and Wine Explorations." The setup for each is the same: a hands-on team approach alongside a professional chef. Demos start at $15 a person. ciachef.edu
Calistoga Ranch
Casual perfection in the Napa Valley
By Jim and Nikki Wood
Late This summer, while the rest of the staff researched cooking schools, we were finally able to experience Calistoga Ranch, a property we've been told, defines the wine country's notion of casual perfection. Another reason we were curious about the 157-acre property: it's owned and operated by Marin's Auberge resorts, based in Mill Valley, which has three Napa Valley properties. Calistoga Ranch, with rates for the lodges starting at $650, is priced between Solage Calistoga, with rates that start at $400 and the iconic Auberge du Soleil, with rooms starting at $875. While all three resorts vary in price point and style, we were intrigued by the rumors of the luxe indoor-outdoor style of living epitomized by private outdoor showers with nothing but the blue sky (or twinkling stars) for a roof, as well as a scheduled visit to Gargiulo Vineyards in close-by Oakville, one of the property's vintner partners.
A simple blue sign on the Silverado Trail marks the road that leads to an oak-studded yet sunny canyon fronting Calistoga Ranch. As it celebrates its ninth year in business, the buildings and landscaping feel fresh and new and at the same time confident and established. In all, there are 48 guest lodges (plus 23 owner lodges); the Lakehouse, a private restaurant overlooking scenic Lake Lommel; the Bathhouse, an outstanding spa and sauna facility; and a sun-splashed swimming pool adjacent to the resort's own vineyard. Completing the ambience are a hillside yoga space, two bocce ball courts and a secluded yet spacious wine cave.
However, should one, heaven forbid, become "over-relaxed" at Calistoga Ranch, a rather stimulating diversion is available—one that provides personal insight into the intriguing wine country way of life. The resort's Vintner Program allows resort guests to enjoy exclusive lunches, tastings, tours and dinners at 48 well-known and boutique—and in many instances private—nearby Napa Valley wineries. Participants include Constant Diamond Mountain Vineyard, possibly Napa Valley's oldest (1890) and highest (2,121 feet) winery; Rombauer Vineyards, located atop an old-growth forested knoll above St. Helena and producing 20,000 cases annually; and William Cole Vineyards, where the valley's first stone cellar was built in 1876 and a fine cabernet sauvignon is now created.
Our recent stay at Calistoga Ranch included a festive lunch at Gargiulo Vineyards. A long harvest table was colorfully set on a rise overlooking acres of vines. The guests were both amiable and knowledgeable about wines and Jeff Gargiulo himself barbecued the lamb while keeping the cabernet flowing at a respectable pace.
If that weren't enough, we later joined Gargiulo in his water-tower office, where he showed us his coveted collection of acoustical guitars and was persuaded to serenade us with a song he wrote for his daughter's wedding. As expected, the women went teary while the guys were envious.
Upon our return to the ranch the afternoon sun beckoned, calling for a swim and a relaxing read. Later, as the sun dipped below the Mayacamas, we enjoyed a delicious dinner paired with a Calistoga Ranch chardonnay on the deck of the Lakehouse restaurant. What time was it? We hadn't a clue. There wasn't a place on earth we'd have rather been.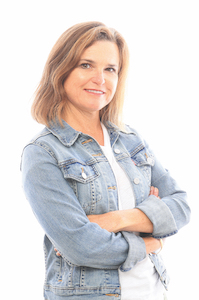 Mimi Towle has been the editor of Marin Magazine for over a decade. She lived with her family in Sycamore Park and Strawberry and thoroughly enjoyed raising two daughters in the mayhem of Marin's youth sports; soccer, swim, volleyball, ballet, hip hop, gymnastics and many many hours spent at Miwok Stables. Her community involvements include volunteering at her daughter's schools, coaching soccer and volleyball (glorified snack mom), being on the board of both Richardson Bay Audubon Center. Currently residing on a floating home in Sausalito, she enjoys all water activity, including learning how to steer a 6-person canoe for the Tamalpais Outrigger Canoe Club. Born and raised in Hawaii, her fondness for the islands has on occasion made its way into the pages of the magazine.