PEOPLE'S REASONS FOR immigrating vary — better opportunities, refuge — but for Angelo Servino, it was because of a girl. A native of Calabria, Italy, Servino met his future wife (American-born Kathryn Riessen) while she was vacationing in his homeland in the late 1970s. The two moved to the United States, married and opened up Servino on 114 Main in Tiburon in 1978. Servino was drawn to the size and Mediterranean climate of Tiburon, but the landscape was a far cry from the town as we know it today. "There was no Point Tiburon back then," he reflects. "I think there was only one stoplight." The culinary climate and customers' knowledge also differed from today's. For one, many patrons did not know the difference between rice and risotto: "They used to say, 'If we want rice we'll go to a Chinese restaurant.' " In 2000, the restaurant expanded and moved down the street to its current waterfront location at 9 Main. After nearly 40 successful years in a traditionally unstable and risky business, does Servino have any tips to promote longevity? "Stay focused on the locals and don't get lost in tourist season," he says. "Respect the customer and develop trust." The rewards of such bonds are not just financial; longtime patrons are now among the many who hold wedding banquets in the restaurant's upstairs Bellavista Room. "We had a party for a customer's daughter after she got married; the daughter was a baby when she first came here," Servino recalls. His is one of the first full-service restaurants in Marin to be certified by the Bay Area Green Business Program, he proudly notes; all pasta is made on-site; and a full gluten-free menu is offered daily. Here's an original house recipe for chicken Calabrese, which pays homage to Servino's native region.
---
Pollo Calabrese
Serves 1
Ingredients
1 organic airline chicken breast
3 tablespoons olive oil
1–2 cloves chopped garlic
Salt and pepper to taste
1 teaspoon chopped rosemary
½ cup dry white wine
1 slice fontina cheese
1 grilled 1-inch-thick slice of eggplant
½ cup chicken broth
To Prepare
Pan-sear chicken breast on both sides in the olive oil until golden brown.
Add garlic, salt and pepper, rosemary and white wine.
Sauté until white wine reduces.
Top chicken breast with a slice of fontina.
Place a slice of grilled eggplant on top of the cheese.
Place chicken breast in oven-safe dish, add chicken broth and bake in the oven at 325°F for 3 minutes or until the cheese melts.
Plate each chicken breast and drizzle with the remaining sauce. TIP Serve with seasonal organic vegetables and roasted potato.
This article originally appeared in Marin Magazine's print edition under the headline: "Decades of Dining."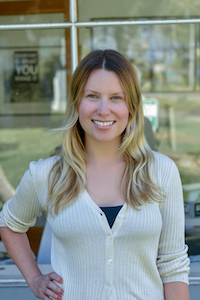 Kasia Pawlowska loves words. A native of Poland, Kasia moved to the States when she was seven. The San Francisco State University creative writing graduate went on to write for publications like the San Francisco Bay Guardian and KQED Arts among others prior to joining the Marin Magazine staff. Topics Kasia has covered include travel, trends, mushroom hunting, an award-winning series on social media addiction and loads of other random things. When she's not busy blogging or researching and writing articles, she's either at home writing postcards and reading or going to shows. Recently, Kasia has been trying to branch out and diversify, ie: use different emojis. Her quest for the perfect chip is never-ending.