WHAT'S GREAT ABOUT being part of the Scoma's family is having a soapbox to talk about responsibility," says chef Gordon Drysdale. Drysdale, of Gordon's House of Fine Eats and Bacchus Management Group fame, has been Scoma's culinary director for nearly two years; the responsibility he's referring to is environmental. Since the beginning of his tenure he's been committed to serving seafood that follows the guidelines of the Seafood Watch Program, helping the iconic Bridgeway restaurant stay relevant in the process. "The Scoma's boat is approved for salmon and Dungeness crab and fishes seasonally, going out from Pier 47," Drysdale says. "Millennials are concerned about where their food comes from," but so are others, he adds, noting that diners today are more knowledgeable in general. Scoma's is famous for being a longtime family-run business: In 1969, partners Al and Joe Scoma and Victor and Roland Gotti purchased the site that became Scoma's Sausalito, and the collaboration between the families continues to this day, with second- and third-generation members running the show. This recipe for fresh salmon tail and chimichurri is an example of the revamped fare under Drysdale's leadership. scomassausalito.com
---
Salmon Tail and Chimichurri a la Scoma
Serves 1–2 people
Ingredients
3 tablespoons fresh garlic, minced
6 tablespoons fresh peeled ginger, minced
¾ cup rice vinegar
4 teaspoons Red Boat fish sauce (or other quality brand)
2 teaspoons kosher salt
2 teaspoons fresh black pepper
1 cup gently packed chopped cilantro or parsley
1½ cups gently packed chopped mint
1 cup gently packed thin-sliced scallions (equal amounts white and green)
1 cup rice oil
¼ cup water
2 limes
1 salmon tail, cut about 3 inches up into the meat
Ligurian olive oil (to coat)
Maldon sea salt (to taste)
Seasonal farmers' market vegetables (baby Nantes carrots, French breakfast radishes, pickled ramps, baby turnips with tops)
1 lemon, sliced
To Prepare
For Chimichurri
Add garlic and ginger to the vinegar, fish sauce, salt and pepper; let macerate for one hour.
Add cilantro or parsley, mint, scallions, rice oil, water and zest of two limes.
Stir well and adjust seasoning if necessary.
Cover tightly and place in the refrigerator.
For Salmon Tail
Take salmon tail, rub lightly with olive oil, sprinkle with sea salt, and reserve refrigerated until one hour before serving.
Prep vegetables: wash everything thoroughly and carefully, and dry as much as possible; the vegetables could be the ones pictured or any mix of fresh, pickled, sautéed or steamed vegetables that go well with salmon.
Just before serving time, light a fire in the grill; let fire burn down to a medium-hot level so salmon skin doesn't burn or stick.
Clean grates thoroughly, then oil them well.
Add the salmon tail and cook about 5–7 minutes first side.
Flip and cook about 4–5 minutes on second side.
Let tail rest for 5 minutes, then plate it surrounded by lemons, vegetables, chimichurri and olive oil and serve.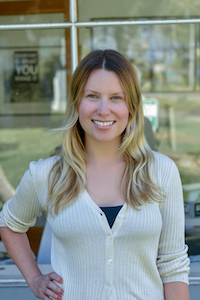 Kasia Pawlowska loves words. A native of Poland, Kasia moved to the States when she was seven. The San Francisco State University creative writing graduate went on to write for publications like the San Francisco Bay Guardian and KQED Arts among others prior to joining the Marin Magazine staff. Topics Kasia has covered include travel, trends, mushroom hunting, an award-winning series on social media addiction and loads of other random things. When she's not busy blogging or researching and writing articles, she's either at home writing postcards and reading or going to shows. Recently, Kasia has been trying to branch out and diversify, ie: use different emojis. Her quest for the perfect chip is never-ending.