OPENED IN MAY 2014 by Melora Johnson, Juice Girl started by serving cold-pressed organic juices, smoothies, and snacks, but quickly a need for healthy grab-and-go lunch food in Mill Valley became apparent. Johnson, while still involved in the business, has since relocated to Connecticut, leaving her partner Karen Olson to assume day-to-day operations. "When we decided to start adding food at Juice Girl we wanted it to be simple, fresh and delicious," Olson says. Getting the Avocado Square ingredients right was especially important because of its simplicity. "It had to have the perfect bread — we sampled many different bakeries; it had to have the perfectly ripe avocado, and then it needed something else to make it our own." Since Olson is a garlic lover, it was a no-brainer to add that pungent flavor to the mix. "The easiest way to achieve that was to find a garlic-infused oil, because the dish had to have high-quality olive oil, too." All that was left was to spice it up with a bit of salt. "Jane's Crazy Salt was something I grew up with and it always seemed to make everything better," she says. All of it ended up being the ideal mix for the Avocado Square. "As mothers to three children each, [Johnson and I] have always focused on finding ways to maximize the good stuff and eliminate the processed stuff in their diets," Olson says. "We are thrilled that the Mill Valley middle schoolers are walking over for smoothies after school and the high school students are frequenting us for lunch each day. To see these children be mindful of what they put into their bodies and make healthy choices — without the presence of adults — warms our hearts." Here Olson shares the recipe for the beloved square.
Juice Girl Avocado Square
SERVES 1
Ingredients
A thick slice of whole-grain wheat bread
(Juice Girl recommends M.H. Bread and Butter
or Parkside Cafe bread)
½ avocado
1 teaspoon garlic-infused olive oil
Jane's Crazy Salt, to taste
To Prepare
1. Toast bread until lightly brown.
2. Slice the avocado in half and spoon it out of the shell. Turn avocado over, cut into small slices and fan over the bread, covering the entire piece.
3. Sprinkle olive oil and Jane's Crazy Salt over the top of the avocado.
4. Serve immediately.
How to Properly Cut an Avocado
1. Place the avocado lengthwise on a secure surface.
2. Cut the avocado in half.
3. Remove the pit by slipping a spoon between the seed and the fruit.
4. If dicing, score the flesh of the avocado without piercing the skin.
5. If slicing, scoop out and slice.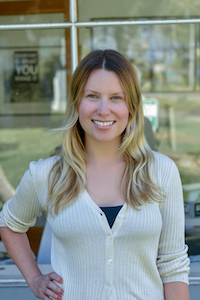 Kasia Pawlowska loves words. A native of Poland, Kasia moved to the States when she was seven. The San Francisco State University creative writing graduate went on to write for publications like the San Francisco Bay Guardian and KQED Arts among others prior to joining the Marin Magazine staff. Topics Kasia has covered include travel, trends, mushroom hunting, an award-winning series on social media addiction and loads of other random things. When she's not busy blogging or researching and writing articles, she's either at home writing postcards and reading or going to shows. Recently, Kasia has been trying to branch out and diversify, ie: use different emojis. Her quest for the perfect chip is never-ending.