LOCAL, ARTISANAL, ORGANIC, farm-to-table — these terms get thrown around so often they begin to lose meaning, but not for the chef and owner of Posie, Kyle Caporicci. After working in some of the Bay Area's most acclaimed fine dining restaurants over the last decade, including Commis in Oakland and Campton Place in San Francisco, he decided it was time to build something of his own. Surprised at the overwhelming number of gourmet scoop shops that rely on premade ice cream base, Caporicci set out to create completely organic ice cream. "Many places may use organic base and then mix in commercially sourced ingredients like Oreos or cornflakes," Caporicci says.
At Posie, opened this past summer, everything from cookies to biscuits to the cobbler added to ice cream bases is organic and made in-house. The bases are also pasteurized on site. "Pasteurizing is time-consuming and tedious, but doing it in the shop allows a lot of creative control to adjust the base for every flavor," he adds. If a flavor showcases a naturally bitter ingredient, more sugar is added to the base to counteract it. If alcohol (like bourbon) is featured in an ice cream, the cream is increased to perfect the consistency. Aside from ice cream, Posie also offers lunch options and desserts. Here, Caporicci shares the recipe for a holiday-ready dessert.
RECIPE
Salted Caramel Apple Pie
Yields Three 5-inch Mini Pies
Ingredients
2 1/2 cups all-purpose flour
2 teaspoons salt
2 1/8 cups sugar
1 1/8 cups chilled butter
1/4 cup apple cider vinegar
1/2 cup cold water
1/2 cup and 1 1/2 teaspoon heavy cream
1/3 cup butter
1/4 cup cornstarch
1/2 teaspoon ground cinnamon
5 apples, cut into 16 slices and then
halved (32 slices per apple)
1 egg
To Prepare
For pie dough
1. Pour flour, 1 teaspoon of the salt and 2 tablespoons of the sugar into food processor. Pulse to mix.
2. Add the chilled cubed butter to processor. Pulse.
3. Add vinegar and 1/4 cup water; pulse until incorporated but still crumbly.
4. On a cutting board, knead dough into a log shape.
5. Refrigerate at least 2 hours.
For salted caramel
1. Put 1 cup of the sugar in a bowl, add ¼ cup water, and mix by hand until consistency resembles wet sand. Pour into pot.
2. Cook at medium heat until sugar turns amber color.
3. Slowly and carefully add all the cream to heated sugar.
4. While stirring, add 1/3 cup butter slowly until it's fully melted.
5. Add ½ teaspoon salt.
6. Pour into container and refrigerate.
For apple filling
1. Mix 1 cup sugar, cornstarch, cinnamon and pinch of salt in a bowl and toss with apple slices. Let sit 30 minutes.
To assemble
1. Prepare an egg wash using 1 egg.
2. Preheat oven to 400°F.
3. Cut pie dough log into 6 even pieces.
4. Roll out each piece and line your trio of 5-inch pie tins with 3 of the pieces (1 each).
5. Fill each tin with heaping amounts of the apple filling.
6. Add a generous scoop of salted caramel to each pie.
7. Add the top pieces of the dough to each pie. Crimp the bottoms and tops together.
8. Cut an X on the top of each pie for venting. Paint tops with egg wash.
9. Bake for 15 minutes. Lower oven to 350°F and continue baking for 35 to 45 minutes or until top is dark golden brown and caramel is bubbling out of the top.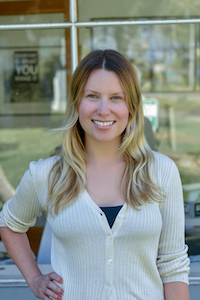 Kasia Pawlowska loves words. A native of Poland, Kasia moved to the States when she was seven. The San Francisco State University creative writing graduate went on to write for publications like the San Francisco Bay Guardian and KQED Arts among others prior to joining the Marin Magazine staff. Topics Kasia has covered include travel, trends, mushroom hunting, an award-winning series on social media addiction and loads of other random things. When she's not busy blogging or researching and writing articles, she's either at home writing postcards and reading or going to shows. Recently, Kasia has been trying to branch out and diversify, ie: use different emojis. Her quest for the perfect chip is never-ending.