ASPARAGUS, WATERMELON AND chocolate number among the foods that stir desires, but for our money's worth, there's no better bet to whet your appetite for romance than oysters. Oysters are an intimate food. We slurp them. They are demanding, and successful shucking requires patience and a well-versed, steady hand. Their brininess and texture challenge us, but what they give in return is worth the effort. Over at Nick's Cove in Marshall, chef Joshua Seibert works with these wondrous bivalves on a daily basis. Originally from New Market, Maryland, Seibert was attracted to cooking at a young age and at 14, he began working as a dishwasher. One day when a cook failed to show up, he filled in and was promoted to prep cook. In 2009, Seibert left the East Coast and enrolled in the California Culinary Academy – Le Cordon Bleu, in San Francisco. Upon graduation in 2011, he was hired as a prep cook at Mission Beach Cafe and swiftly made his way up to executive chef. Now at Nick's Cove Restaurant, Seibert appreciates the amazing local ingredients and some of his favorite food producers, including the on-site farmer, Brendan Thomas. "This dish is really layered with flavors and textures and perfect for starting a memorable Valentine's Day meal," he says. "The oysters out here on Tomales Bay are beautiful, and I'm enjoying getting to learn and taste the differences between the various types." nickscove.com

Drakes Bay Oyster Orgasmica
Serves 2
Special tools and equipment needed
Blender
Cheesecloth
6 shot glasses or large shooter spoons
Ingredients
1 jalapeño pepper, seeded, chopped
½ bunch cilantro
½ cup water
2 tablespoons fresh lime juice
Salt
¼ cup pepitas
1 tablespoon extra-virgin olive oil
1 large watermelon radish, julienned
½ cup fresh lime juice
½ cup champagne vinegar
6 Drakes Bay oysters (chosen for size
and salinity), shucked
6 micro-cilantro sprigs
1 finger lime, sliced, with finger lime caviar
scooped out and reserved
To Prepare
1. Preheat the oven to 350°F.
2. Blend the jalapeño, cilantro, water and lime juice until smooth.
3. Add salt to taste.
4. Strain the broth through a sieve lined with 4 layers of cheesecloth, pressing down on the solids to extract as much liquid as possible. Discard the solids.
5. Toss the pepitas with the olive oil in a bowl and spread on a rimmed baking tray. Roast in the oven until golden brown,
10 to 15 minutes.
6. While the pepitas are roasting, combine the radish, lime juice, vinegar, and a generous pinch of salt in a small bowl and let stand to macerate. Drain before using.
7. To assemble, place 1 oyster in each shot glass or shooter spoon. (Alternatively, arrange the oysters in a shallow serving bowl.)
8. Pour the broth around each oyster, leaving the top of the oyster exposed. Top with the pepitas and radish slivers and garnish with the micro-cilantro and finger lime caviar.
9. Serve immediately.
This article originally appeared in Marin Magazine's print edition with the headline: "Love, Plated".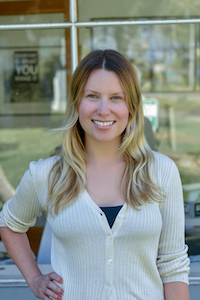 Kasia Pawlowska loves words. A native of Poland, Kasia moved to the States when she was seven. The San Francisco State University creative writing graduate went on to write for publications like the San Francisco Bay Guardian and KQED Arts among others prior to joining the Marin Magazine staff. Topics Kasia has covered include travel, trends, mushroom hunting, an award-winning series on social media addiction and loads of other random things. When she's not busy blogging or researching and writing articles, she's either at home writing postcards and reading or going to shows. Recently, Kasia has been trying to branch out and diversify, ie: use different emojis. Her quest for the perfect chip is never-ending.