We asked local hospitality experts to share their favorite sand-and-sun destinations, with one caveat — they couldn't choose one of their own properties. Their responses reveal great spots for every type of travel — from family to romantic to international to just around the corner. If you're thinking of warming your toes and sunning your soul this winter, we hope these suggestions make the decision process easier.
St. John, U.S. Virgin Islands
Who Jon Kimball has been the general manager of the Westin St. Francis for the past six of his 27 years in hospitality. While his favorite winter beach is at the St. Regis in Princeville, Kauai, we had to ask for his second favorite, because the St. Regis is a sister property of the Westin St. Francis within Starwood Hotels and Resorts.
Why he loves it "I feel very fortunate that I have been able to enjoy some incredible travel opportunities throughout my career in the hospitality industry. One of my best vacations was the recent trip I took with my wife and two children to St. John. The first thing I noticed was the island's stunning natural beauty. The water was crystal clear and just the right temperature, and since two-thirds of the island is a national park, it is largely a vibrant green tropical rain forest filled with plants and wildlife. If you go, be on the lookout for iguanas and wild donkeys roaming the island. We spent most of our vacation exploring the nearby islands, snorkeling and jet skiing. One of my favorite experiences was going on the underwater snorkeling tour at Trunk Bay, where signs guide you around a large coral reef filled with colorful fish. A not-to-miss spot is the Soggy Dollar Bar. You can only get there by swimming to it. Needless to say, by the time I got there my money was soaked. But not to worry: They have a clothesline where they'll dry your money. (At The Westin St. Francis, we wash our guests' coins, but this takes things to a new level.) A great thing to know is that although St. John is part of the U.S. Virgin Islands, if you bring your passport you can also explore the British Virgin Islands, which we made sure to do. We took a boat to Virgin Gorda, where we explored and swam in The Baths, among the giant granite boulders. And be sure to take a ride in one of the open-air taxis — it's quite an adventure."
Details The smallest of the three U.S. Virgin Islands, St. John is about a 10-hour flight from SFO, followed by a boat ride. Expect average winter temperatures of 77 degrees. visitusvi.com
Sayulita, Nayarit, Mexico
Who Mill Valley's Sarah Livia Brightwood is the president of Ranch La Puerta spa and fitness resort in Baja California, a popular year-round destination for people from all over the world.
Why she loves it "I have returned to Sayulita, in the state of Nayarit, Mexico, many times. My daughter learned to Boogie-board here when she was six years old. The resorts and little hotels along this Pacific coastline 45 minutes north of Puerto Vallarta range from funky to luxurious, but my favorite is a boutique hotel called Playa Escondida just outside of town. Playa Escondida is not fussy and manages to be simple, beautiful and intimate with whimsical flair and a gorgeous private beach. The rooms are quiet and unique in design. The food is delicious, and the staff helpful. I celebrated my 55th birthday there with a shamelessly romantic private dinner on the sand — we sat at a small table ringed by rose petals and luminarias at sunset. Sayulita itself is a fishing village with a lot of local color and has become a popular surfing destination. Surfing schools welcome novices, and a stretch of the beach is gentle enough for beginners and children. Another area has a fine break for accomplished surfers. On my last visit we spent hours watching a local surfing in tandem with his dog. In town you'll find some fine art, good shops and restaurants, and an excellent center devoted to promoting Huichol culture and art with the most beautiful beaded work you've ever seen. Sayulita is not far from Punta Mita. The water is brisk in the winter but the days are sunny."
Details Over the past decade, this classic beach town has become a popular destination for many Marin families. Getting there involves a three-and-a-half-hour flight to Puerto Vallarta, followed by an hour's drive north. Temperatures average around 80 to 90 degrees throughout the year. sayulita.com, playa-escondida.com
Auckland, New Zealand
Who Mike Freed, cofounder and managing director of Passport Resorts, has been closely involved with innovations at Post Ranch Inn in Big Sur, Jean-Michel Cousteau Fiji Islands Resort and more recently Cavallo Point in Sausalito — all of which have earned awards for their environmental features.
Why he loves it "Our favorite place to stay in Auckland is the 13-room Mollies. We've been there three times and stayed in different rooms each time. The rooms are all suites and are uniquely appointed. We once stayed in a room with a baby grand piano, which was pretty to look at but was left untouched. We like the small size and location: Even though it is in a residential area, it's still close to everything. Being in the hospitality business, I appreciate all the work owners Stephen and Francis Fitzgerald have done on the hotel. Mollies is named after Francis' mother, since this was where she lived. Another bonus is the fact that Francis is an opera coach, who taught in New York City. She still teaches opera in Auckland, and her students perform each night in the bar. It is very cool to listen to live opera while looking out over the water. Oh, and they include a great breakfast."
Details There are more than 50 beaches to choose from in Auckland New Zealand. Whether black sand or white, Pacific Ocean or Tasman Sea, the options are plentiful. Auckland is one of the sunniest spots in the country with average temperatures in the mid 70s. Summer here is from December to February. aucklandnz.com, mollies.co.nz
Kauai
Who Mark Harmon has been in the family hospitality business — founded in 1985 by his father Bob — since 1998. He is currently the CEO of Auberge Resorts, an offshoot of his father's original company, which includes the popular winter beach destination Esperanza Resort in Los Cabos, Mexico.
Why he loves it "Over the years, we have visited the Hawaiian Islands many times, yet we keep coming back to Kauai because of its rugged natural beauty and small-town charm. One of the best lesser-known experiences is to take a hike into Waimea Canyon. Descending from the top of the canyon, you drop several thousand feet into an unspoiled wilderness with beautiful pools and waterfalls. And there is the Kalalau Trail, which we hiked many years ago; we camped on the western point of the island. The sunsets are phenomenal there, and I will never forget bodysurfing in waves lit up by the red glow of the sun. I also love the laid-back and peaceful town of Hanalei, which reminds me that living simply is the best tonic for a busy life. As far as where to stay, we like the Kiahuna Plantation in Poipu."
Details From the glassy waters of Hanalei Bay to the windswept dunes and turbulent waters of the 17-mile Polihale Beach on the west side, Kauai — the oldest of the popular islands in the Hawaiian chain — has a warm stretch of sand for all types of beachgoers. kauai-hawaii.com, outrigger.com
Caribbean Cruising
Who Ever since she remodeled a prewar hotel in Union Square in 1982, Yvonne Lembi-Detert, president and CEO of Personality Hotels, has become a pioneer and then leader in boutique hotel chic. Her properties include Hotel Diva, Hotel Metropolis, Hotel Union Square, Kensington Park Hotel, Steinhart Hotel in San Francisco and Mariposa Inn & Suites in Monterey.
Why she loves it "My most unforgettable memory is being pushed up in the air by a dolphin's snout to soar across the stunning warm blue waters of Cozumel. Now, that was a rush that even the countdown to the New Year could never replace. Dolphins are amazing. They are truly the definition of hospitality. Think about it: Where else are you greeted by a stranger who swims up next to you, gives you a memory of a lifetime and simply delights in your happiness? The Norwegian Cruise Line was a delight as well. The accommodations were spacious, and the food was delicious. The staff also went out of its way to accommodate our needs and to make this a very relaxing holiday vacation for the entire family. This experience changed my views on cruising, especially for when you're traveling with the entire family. It's easy, there's no luggage to haul and you can get lost on the ship and still be found. Plus, I slept well because, if the dolphin experience alone did not positively exhaust me, the boat rocked me to sleep like a baby."
Details The Caribbean's sun-filled warm weather, beautiful islands strewn with white-sand beaches and calm, warm, lapping waves are hard to beat. A cruise combines time to relax while at sea with ports of call for exploring various islands. norwegiancruises2012.com
Stinson Beach
Who Author Chip Conley is the founder of San Francisco–based Joie de Vivre, the country's second-largest boutique hotel chain, with properties in the city and on many Southern California beaches, such as Laguna, Huntington and Venice.
Why he loves it "I really enjoy going to the Zen Center at Green Gulch, spending an hour meditating at the gulch along with having a splendid vegetarian meal and then sauntering to the beach. It's a sublime and transcendental experience. However, when it comes to bringing along Sugar Ray, my faithful canine companion, I opt for Stinson Beach. I love Stinson Beach in the winter; it's nearly empty of people but teeming with wildlife, and that unusual crystal-clear, sunny January day can bake you. I wrote most of my book, Peak, in a rented home on Seadrift Lagoon, and then stayed at a friend's beachfront home while working on my upcoming book, Emotional Equations, which will be coming out this January. I love taking an early morning beach run with Sugar Ray and then coming back and building a fire while preparing for my morning rounds of ruminating and writing. One of the best things about Stinson in the winter is the easy pattern of life. No one is in a rush, there are no lines at the Parkside Cafe, and — much to my happy surprise — Surfers Grill is open on the weekends, making walking along the beach to get lunch a journey in itself."
Details While winter is usually the coldest and wettest season in Stinson, as all locals know, crisp, sunny days happen quite often. Walking the 3.5-mile stretch of sand is a soulful experience, with shoes or without. stinsonbeachonline.com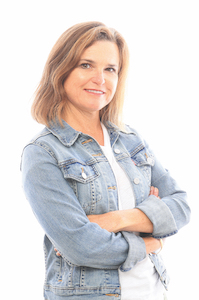 Mimi Towle has been the editor of Marin Magazine for over a decade. She lived with her family in Sycamore Park and Strawberry and thoroughly enjoyed raising two daughters in the mayhem of Marin's youth sports; soccer, swim, volleyball, ballet, hip hop, gymnastics and many many hours spent at Miwok Stables. Her community involvements include volunteering at her daughter's schools, coaching soccer and volleyball (glorified snack mom), being on the board of both Richardson Bay Audubon Center. Currently residing on a floating home in Sausalito, she enjoys all water activity, including learning how to steer a 6-person canoe for the Tamalpais Outrigger Canoe Club. Born and raised in Hawaii, her fondness for the islands has on occasion made its way into the pages of the magazine.