Elephant seals are fascinating creatures. They can hold their breath and stay submerged for up to two hours, dive a mile under the surface, inflate their snouts — males only — and have landed some significant voice acting roles. Remember Orcs from the film, Lord of the Rings? Their sound was recorded from northern elephant seals at the Marine Mammal Center in Sausalito. Big time.
These massive pinnipeds can be viewed in Marin starting in December from Elephant Seal Overlook near Chimney Rock, above Drakes Bay. The elephant seals disappeared from Point Reyes after decades of overhunting, but a "new" colony is thought to have migrated from the Farallones and Año Nuevo rookeries. This colony, which now has more than 1,700 animals, all started with the first elephant seal pup born at Drakes Beach in 1981.
Presently, Drakes Beach serves as a place for non-competitive bulls that are either too young or too old to fight for the right to mate. Most of the mating and birthing occurs at inaccessible beaches farther north in the Point Reyes headlands. To see for yourself, park at the Chimney Rock lot and consider coming on a weekday to avoid crowds. The seals should be around through April. Go to nps.gov for more viewing tips.
---
More from Marin: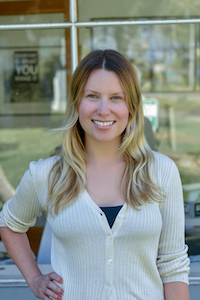 Kasia Pawlowska loves words. A native of Poland, Kasia moved to the States when she was seven. The San Francisco State University creative writing graduate went on to write for publications like the San Francisco Bay Guardian and KQED Arts among others prior to joining the Marin Magazine staff. Topics Kasia has covered include travel, trends, mushroom hunting, an award-winning series on social media addiction and loads of other random things. When she's not busy blogging or researching and writing articles, she's either at home writing postcards and reading or going to shows. Recently, Kasia has been trying to branch out and diversify, ie: use different emojis. Her quest for the perfect chip is never-ending.