Few clothing items – with the possible exception of leather jackets — come with as much built-in attitude and gusto as jeans do. Yet they are hardly exclusive. Unlike precious stones or luxury handbags, jeans are a truly democratic piece of attire, cutting across cultural and socioeconomic lines, donned by construction workers and supermodels alike. Even the late fashion designer Yves Saint Laurent, famous for introducing a women's tuxedo suit, reportedly confided once, "I have often said that I wish I had invented blue jeans: the most spectacular, the most practical, the most relaxed and nonchalant. They have expression, modesty, sex appeal, simplicity — all I hope for in my clothes."
Saint Laurent, of course, did not create blue jeans — the invention is attributed to Jewish immigrants Jacob Davis and Levi Strauss. In 1853, Strauss, a Bavarian-born merchant in San Francisco, began selling brown cotton tent canvas, which was sewn into plain pants for miners during the Gold Rush. He later began carrying a sturdy twill that some say took its name from serge de Nîmes, a fabric from the city in southern France, and had it dyed indigo.
The pants were nicknamed "jeans" after the city of Genoa, where sailors wore similarly colored blue cotton uniforms. Davis, a Strauss client, was a Russian tailor living in Reno; he made items ranging from horse blankets to wagon covers for Central Pacific Railroad workers and started applying copper rivets on stress points for added support. In 1872, Davis asked Strauss to help finance a patent for riveted- pocket pants. The patent was approved in 1873 and the pants born out of it became the first iteration of the 501 jean, then called XX. To set the jeans apart from others on the market, Davis started sewing a double orange-threaded stitched design onto the back pocket. To this day the design is synonymous with Levi's.
Miners and railroad workers aside, another significant population wore Levi's jeans — convicts. From 1885 until 1901, Levi Strauss & Co. had government contracts to supply clothing and dry goods to San Quentin and other prisons in California. Decades later, an entrepreneurial young woman took advantage of the excess denim at San Quentin and started a nationwide fashion craze, her denim styles gracing the cover of Rolling Stone and the posteriors of the rich and famous.
That woman, Melody Sabatasso, a Fashion Institute of Technology graduate, operated a small boutique in San Anselmo, where she reworked jeans into jackets, skirts and unlikelier items such as bikinis, inscribing the signature "Love, Melody" in red crayon inside the garments. But it all began with a dress. "I wanted a dress for a wedding," Sabatasso says today. "I never wore dresses and wanted to wear one the same way I wore my jeans." As it turned out, a friend of Sabatasso's was working at the Cannery in San Francisco, wearing a Love, Melody original design, when Lauren Bacall came in and inquired about the item. Sabatasso ended up making Bacall a skirt and jacket — and learning something in the process. "You don't know your worth," the actress replied upon receiving her clothes, paying Sabatasso double what she'd charged.
Sabatasso's mom took the act on the road after this, selling her daughter's creations while the freshly validated designer toiled away in San Anselmo. With the help of a "rag man," Sabatasso bought denim from San Quentin by the ton, picking out the best-quality jeans — "mostly Levi's," she says. Throughout the '70s, '80s and '90s she created signature patchwork denim for the likes of Elvis Presley, Mick Jagger, Sonny and Cher, Grace Slick, Tina Turner, Bob Dylan, Dolly Parton and others. These days she's still designing (having moved on to mostly leather goods) and making custom belts, handbags and home accessories in her Greenbrae studio. One of Sabatasso's regular clients is another famous Marinite: Narada Michael Walden. Most recently she made him a custom vest for a Prince tribute.
America's fascination with jeans continues and the present-day versions have come a long way since their inception, appearing in a number of varied forms: selvedge, waxed, stonewashed and — nodding to San Francisco trends — with technology woven in.
A collaboration between Google's Advanced Technologies and Projects (ATAP) and Levi's innovation team will yield Levi's Commuter X Jacquard by Google, available in stores and online starting in spring 2017. Simply put, this product will be a jacket with conductive yarn woven in that lets cyclists and everyone else on the move access their phone's mobile apps, adjust music volume, silence a phone call or get an estimated ETA, all by just touching the sleeve. The digital connectivity is provided through a smart tag, and apart from this detachable tag, the whole interactive garment is washable and durable like regular denim.
Simultaneously iconic and dynamic, jeans have meant a lot of different things to different people in their 143-year history, from purely functional to casual to everything in between. No item of clothing is more recognizably, emblematically American. The future of this egalitarian wardrobe staple will undoubtedly continue to unfold, one wash at a time.
---
More from Marin: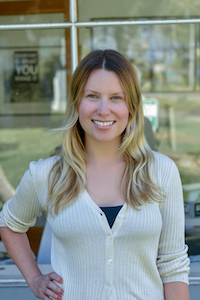 Kasia Pawlowska loves words. A native of Poland, Kasia moved to the States when she was seven. The San Francisco State University creative writing graduate went on to write for publications like the San Francisco Bay Guardian and KQED Arts among others prior to joining the Marin Magazine staff. Topics Kasia has covered include travel, trends, mushroom hunting, an award-winning series on social media addiction and loads of other random things. When she's not busy blogging or researching and writing articles, she's either at home writing postcards and reading or going to shows. Recently, Kasia has been trying to branch out and diversify, ie: use different emojis. Her quest for the perfect chip is never-ending.