Novato lies on the northern edge of Marin, with the advantage of being two steps to Sonoma County. Its many small communities and surrounding countryside gives this expansive town with a very large mall a local feeling. Dining options include small cafes and wine bars, along with Marin favorites Hopmonk Tavern, Boca Pizzeria and Finnegan's.
Be sure to check each restaurant's website or social pages to confirm its most current hours of operation and services.
Active Culture Cafe | Ayawaska | Belli Deli | Beso Bistro and Wine Bar | Blue Barn | The Boardroom | Boca Pizzeria | Chianti Cucina | Cocina Antigua | Finnegan's Marin | Ghiringhelli's Novato Vino | Hopmonk Tavern | Le Col Rouge | Lone Mountain BBQ | Mamita Cocina Mexicana | Marvin's Restaurant | Michael's Sourdough | Rustic Bakery | The Speakeasy | Toast | Trailhead
---
American
An all-day café serves up plant-forward fare like a lentil burger with slaw and barbecue beet sauce or wholesome bowls of quinoa and veggies and a breakfast burrito stuffed with eggs, potatoes and cheese. All menu items can be customized to suit dietary needs–just be sure to state your preference when ordering at the counter.
Dogs Welcome | Grab 'n Go | Kid-friendly | Meal Under $20 | Outdoor Seating
464 Ignacio Blvd, 415.475.1128
Latin American
An outpost of the Petaluma original fittingly fills the landmark space that once housed Hilltop 1892. A menu of Peruvian classics includes lomo saltado and the country's famous ceviches (try the a la Huancaina with the catch of the day). Huge glass-paned doors in the front room slide open to reveal the view. The brunch menu includes a Peruvian breakfast as well as more familiar fare like eggs Benedict and a chia pudding bowl.
Brunch | Date Spot | Full Bar | Happy Hour | Kid-friendly | Watch the Game
850 Lamont Ave, Novato; 415.944.2066
Korean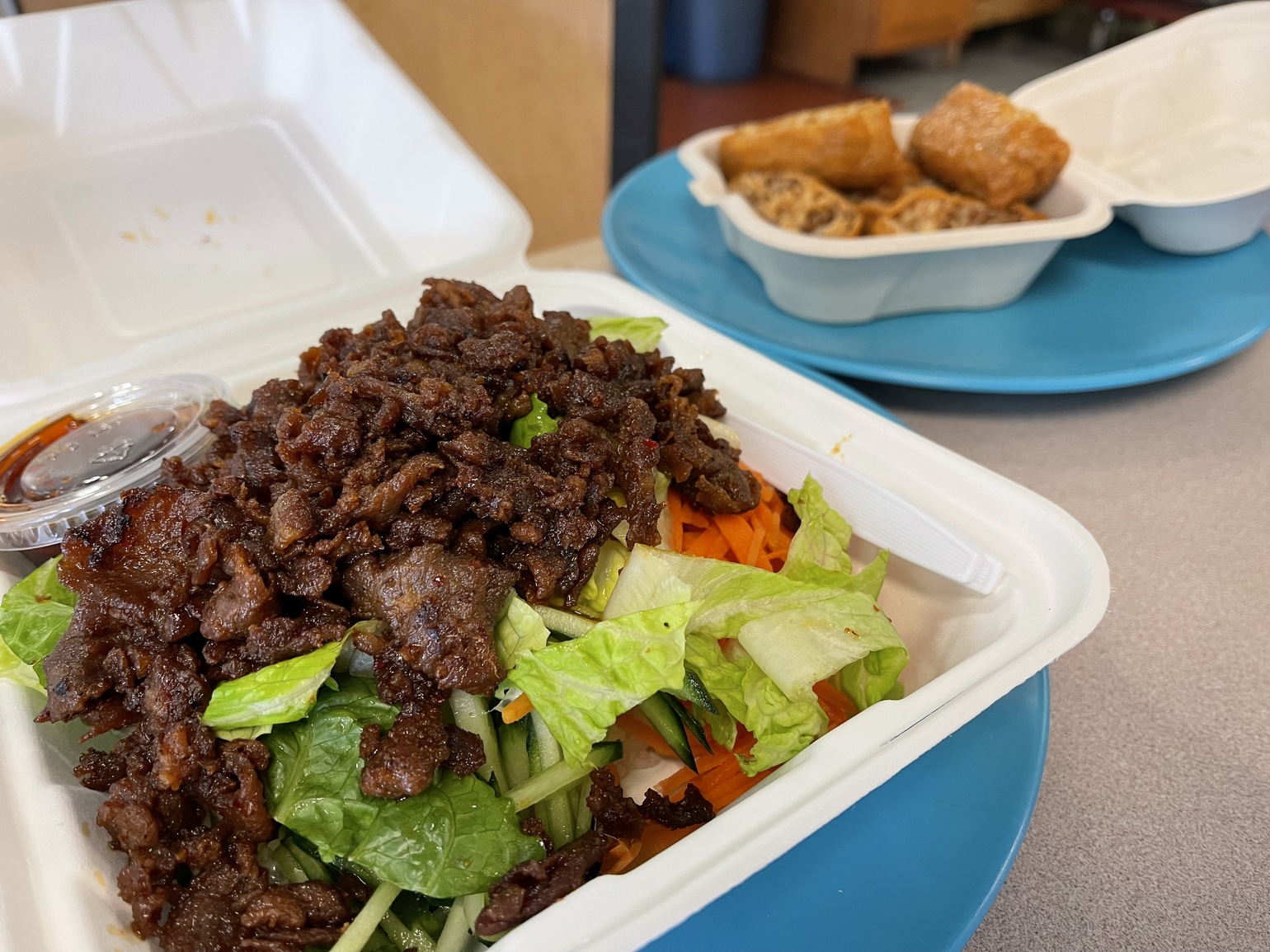 There are no bells and whistles at this RV park deli better known for its California Reuben and Atherton Club sandwiches than its Korean barbecue. That needs to change. From a tiny, gas-fired grill, Korean-born chef-owner James Jung grills beef for garlic-and-vinegar seasoned bi-bim-bap and for stuffing into tofu sushi, among other treats. Though the kimchi isn't grilled, it's a must-try. "This restaurant is my retirement project," Jung says and laughs.
Grab 'n Go | Meal Under $20
1530 Armstrong Ave, Novato; 415.897.5770
Californian
This Hamilton Field restaurant highlights locally sourced organic produce, fresh sustainable seafood, and pasture-raised and free-range meat. Wine lovers can embrace their inner Dionysus — Beso offers more than 20 selections by the glass and more than 50 by the bottle. The patio is naturally shaded by local oaks.
Date Spot | Dogs Welcome | Kid-friendly | Outdoor Seating
502 S Palm Drive; 415.883.6700
Californian
The second Marin outpost of the San Francisco-based eatery (the first is in Corte Madera) is popular for its customizable salads (we love the Casbah with toasted chickpeas and feta), toasted sandwiches (try the Buffalo Fry), seasonal soups and more, all prepared with locally harvested produce and proteins. The back patio is a popular hangout spot for families.
Full Bar | Kid-friendly | Meal Under $20 | Outdoor Seating
819 Grant Ave, 415.895.6577
American
A secret library connects The Speakeasy to owner and executive chef Munther Massarweh's latest project, a "piano dining room" to build the attached Boardroom where shaded chandelier sconces and Prohibition-era photos (plus Marilyn Monroe and Elvis hang near white linen­-covered tables and dark leather chairs. It's a good match for the classic wedge salad, escargot and herb-crusted filet mignon at lunch or dinner with a Fly Me to the Moon or martini cocktail, or avail yourself of the expansive wine menu.
Date Spot | Full Bar | Happy Hour | New Hot Spot | Round Table
504 Alameda Del Prado; 415.883.7793
Italian
Enjoy authentic pizza prepared with house-pulled mozzarella and tomatoes imported from Italy, or go for a grilled rosemary chicken sandwich or the braised beef short rib pappardelle. Weekly specials include half off all wines by the bottle on Wednesdays and half off draft beers on Thursdays.
Date Spot | Full Bar | Kid-friendly | Meal Under $20 | Outdoor Seating
454 Ignacio Blvd, 415.883.2302
Italian
This cozy eatery offers an array of Italian and American dishes, including a long list of pastas; try the house-made ravioli cooked up by chef Edgar DeLon.
Date Spot | Full Bar | Kid-friendly | Meal Under $20 | Outdoor Seating | Round Tables
7416 Redwood Hwy, 415.878.0314
Latin American
With a sign that is hard to see from South Novato Boulevard, a family-style Central American restaurant and market serves meals that represent the Mayan culture and family meals of owners Mayra Ordoñez and Juan Cutz. Look for spices, beans and fresh produce at the market and the region's famous dishes – pupusas, tacos chapines and hilachas – as some of the daily offerings.
Dogs Welcome | Kid-friendly | Meal Under $20 | Outdoor Seating
1559 South Novato Blvd., Suite J, Novato; 415.895.5960
American
The dark wood paneled booths and high backs on bar stools mean it is easy to linger over Irish-inspired meals like corned beef and cabbage or nachos made with waffle fries instead of corn chips. They taste just as good on the heated outdoor patio.
Brunch | Date Spot | Full Bar | Happy Hour | Meal Under $20 | Outdoor Seating | Watch the Game
877 Grant Ave, 415.899.1516
American

The beer garden-style outdoor patio and live music keep fans coming back to this Novato brewhouse tucked into the Vintage Oaks Mall. And let's not forget the ample selection of beers on tap.
Brunch | Date Spot | Full Bar | Happy Hour | Outdoor Seating | Private Party Room | Watch the Game
224 Vintage Way, 415.892.6200
American

Owner Robin Lindsey is a huge fan of Nashville hot chicken, and the sandwiches here range in heat from Death by Redneck (also a play on the restaurant's name) to plain with no cayenne or hot sauce added. Get your bird grilled or fried, layered into a bun with coleslaw or atop a salad. There's even a side of fried okra, because, well, Nashville.
Dogs Welcome | Kid-friendly | Meal Under $20 | Outdoor Seating | Watch the Game
1531 South Novato Blvd, 415.895.6466
American
Marin native Chris Stafford moonlights as a pit master, pulling his portable rig to gigs (including regular stops at his Uncle Matt and Uncle Joe's Indian Valley Brewery in Novato) to serve up what Stafford calls central Texas style 'cue. A Brandt brisket cut is his signature dish with little more than salt, pepper, Lawry's Seasoning Salt and time to smoke over oak before the beef gives in to a lacquered crust and a disarmingly pink interior. It is a dish that just might make a name for Marin barbecue.
Grab 'n Go | Meal Under $20
1016 Railroad Ave, 415.755.8129
Mexican
The former Crave space pivoted in late September to focus on the cuisine of Oaxaca with imported chilies and spices for the chicken enchiladas with mole coloradito and cauliflower al pastor with achiote and chipotle aioli. Heirloom corm masa is made in-house, a fine underpinning for quesabirria tacos at lunch and dinner and chilaquiles at breakfast. A tequila cart will transport some of the 60+ tequilas and margaritas from the bar straight to your table.
Brunch | Date Spot | Full Bar | Outdoor Seating | Private Party Room
340 Ignacio Blvd. Novato; 415.883.0901
American
This place, known for "Best Breakfast in Novato," also serves up generous portions for lunch. The corned beef hash, Benedicts, and superb service draw a consistent crowd year-round.
Brunch | Kid-friendly | Meal Under $20 | Outdoor Seating
1112 Grant Ave, 415.892.4482
American
BOC Sandwhiches
The bread is made on site and is said to have magical qualities. It better, as it is the only holder for the overstuffed wonders served at this Best of the County 2022 winner. Fans return over and over to the San Rafael and Novato locations for their faves, ordered by number, then swoon over the huge sandos piled with meat, cheese and enough shredded lettuce to ooze out the sides and onto your lap.
Kid-friendly | Meal Under $20 | Outdoor Seating
42 Digital Dr, #8, 415.883.5110
Californian
Organic pastries, breads, salads, and sandwiches are on the menu at this location downtown, including daily seasonal specials. Try the Marin Melt — Cowgirl Creamery's Mt. Tam and Point Reyes Toma cheeses grilled on honey whole wheat, served with dressed baby greens and crisp apple slices. It's even better on the patio.
Dogs Welcome | Grab 'n Go | Kid-friendly | Meal Under $20 | Outdoor Seating
1407 Grant Ave, 415.878.4952
American
There's nothing like the comfort of a solid burger and beer when you're kicking back and watching the game. In addition to the 10 beers on tap, cocktails range from the 1920's to the 2020's. A shareable, tapas-style menu includes grilled maitake mushrooms, escargot and mini street tacos.
Date Spot | Full Bar | Happy Hour | Meal Under $20
504 Alameda del Prado, 415.883.7793
American
With outdoor dining and spacious inside seating at Hamilton Marketplace, large parties, families and everyone else dives in on comfort food favorites like corned beef hash, buttermilk pancakes and at dinner, chicken schnitzel and shrimp scampi.
Dogs Welcome | Kid-friendly | Meal Under $20 | Outdoor Seating
5800 Nave Drive, 415.382.1144
American
Order breakfast (the vegan egg sandwich is a must), shareable snacks (pretzel and Pliny beer cheese), paninis, salads, and Equator coffee drinks at the counter before grabbing a seat on the all-day café's shaded patio. The baked goat cheese is a standout and pairs with the 10 local beers and two wines available on tap or from the craft can program.
Dogs Welcome | Grab 'n Go | Kid-friendly | Meal Under $20 | Outdoor Seating
127 San Marin Drive; 415.493.6902
---